Trump Loyalist Gets Surprise Fight From Democrat in Senate Race
(Bloomberg) -- The U.S. Senate race in Tennessee shouldn't have been much of a worry for Republicans in 2018. Democrat Phil Bredesen has made it so.
The state hasn't sent a Democrat to the Senate since 1990, President Donald Trump won there by 26 percentage points in 2016, and the presumptive Republican nominee this year, Representative Marsha Blackburn, is a Trump loyalist. But Bredesen is trying to cut through that with an independent profile that he hopes will transcend his party label.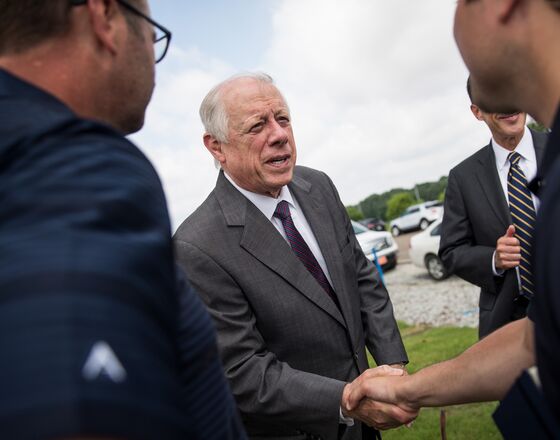 "I belong to the Democratic Party and I'm happy with that, but it's an organization I belong to. It's not a religion. I don't think that if Chuck Schumer doesn't like what I do I'm going to hell," he said in an interview, referring to the New York Democrat who's in line to be majority leader if Democrats manage to take Senate control in November.
A former Nashville mayor and two-term Tennessee governor, Bredesen has a reputation as a pragmatist in a state with a tradition of electing institutionalists over ideological firebrands like Blackburn. His popularity in the state -- he won re-election in 2006 with 68 percent of the vote -- has prompted both Democratic and Republican groups to include Tennessee in their million-dollar ad buys for the Senate campaign.
Bredesen and Blackburn are poised to win their party nominations on Thursday to succeed Senator Bob Corker, one of Trump's most outspoken GOP critics, who is retiring. As in many of the 2018 campaigns for Congress, Trump is a focal point of the race.
Bredesen says he dislikes aspects of Trump's behavior, but vows to support him when his policies are good for Tennessee and oppose him when they're bad. "If you go there and decide 'I need to be a warrior for the Republican Party or for the Democratic Party' you're mistaking the nature of the job," he said in an interview after talking with health care workers at a hospital in Bolivar, a town of about 5,000 in west Tennessee.
By contrast, Blackburn pronounced herself "a hardcore, card-carrying Tennessee conservative" in a video launching her campaign and told voters that "the left calls me a wing-nut or a knuckle-dragging conservative."
"As a senator, Tennesseans want someone who is going to support the president's agenda," the 15-year congresswoman representing a deep-red district between Nashville and Memphis said in an interview.
Both candidates as well as independent analysts expect a fight. The nonpartisan Cook Political Report rates the race a "toss up" while the forecaster Sabato's Crystal Ball says it "leans" Republican.
"There's a really good chance Phil Bredesen could win," said John G. Geer, a dean and political science professor at Vanderbilt University in Nashville. He said the Democrat's biggest challenge will be to hold the moderate Republicans who supported him as governor.
Geer attributed Bredesen's chances to three factors. First, he has a high favorable rating and good will from his tenure as governor from 2003 to 2011 when he "governed as a problem-solver and not an ideologue." Second, he said Democrats haven't nominated a top-tier candidate in 12 years; Bredesen has won twice statewide, while Blackburn has never run statewide. Third, Geer said, is the political climate in which many suburban women are uncomfortable with Trump.
But Bredesen is hoping to succeed where former statewide officials of both parties attempting a comeback after leaving politics have failed. That includes unsuccessful Senate bids this decade by Wisconsin's Tommy Thompson and Russ Feingold, Virginia's George Allen, Ohio's Ted Strickland, and Indiana's Evan Bayh, all of whom were initially seen as strong recruits.
Blackburn and other Republicans are emphasizing Tennessee's position in the battle for Senate control. "This could be the race that makes that determination. We are working hard to make certain that this stays as a Republican seat," the congresswoman said in an interview. "Tennesseans want to see somebody who is going to work with the president to build the wall and secure that southern border."
Bredesen shot back: "The difference between us is that I clearly see my job as trying to represent Tennessee, and she's made no secret of the fact that she's going there to support Trump's agenda."
Blackburn is seeking to nationalize the race and focus on advancing Trump's agenda on immigration and the Supreme Court, portraying Bredesen as a reliable Democratic vote. Bredesen says his record belies that claim. He's seeking to localize the race and highlight the sales tax holiday he enacted as governor, and other matters important to Tennessee voters — such as Asian Carp, an unwelcome species that is damaging its fishing industry.
Corker, who calls Bredesen a friend and recently praised him as a good governor, said in an interview he's supporting Blackburn because "a lot of people in Tennessee will be looking at the balance of the Senate, and I know that'll be a driving force for a lot of people."
Colorado Senator Cory Gardner, who chairs the GOP's Senate election arm, said, "Chuck Schumer says the way to his majority is through Tennessee, and I have no reason to doubt that if he were to win Tennessee, he may very well be on his way to the majority."
Tennessee is uniquely positioned to decide which party controls the chamber in January. Democrats need a net gain of two seats, and they have good chances in Nevada and Arizona. But with 10 Democrats facing re-election in states won by Trump -- five of them by double-digits -- holding all their seats would be akin to drawing a straight flush. That's where Tennessee comes in. It's the wild card in the deck.
But if the hopes and dreams Democrats have of retaking the Senate rest on Bredesen's shoulders, he's not having any of it.
"I expect to be in the minority," Bredesen said. "The number of things that've got to fall into place perfectly to get a majority this time around -- it seems to me pretty unlikely. I just don't see it happening."
Bredesen said the national Democratic Party has lost its message of economic opportunity and should be more "respectful to a broad range of cultures," including pro-gun voters in rural America. He likes parts of Obamacare (the coverage expansion) but dislikes others ("we just doubled down on a 50-year-old model"). He likes parts of the GOP tax law (the middle class breaks) and dislikes parts of it (the benefits for the wealthy and the higher deficits). But he declined to say how he'd have voted on either law. He says he's "very open to" what Republicans call Tax Reform 2.0, which is centered on making the individual breaks permanent.
Bredesen declined to offer an opinion on Supreme Court Justice Neil Gorsuch and said he'll be open-minded about Trump nominee Brett Kavanaugh until after his hearing; he mourns the days when Antonin Scalia and Ruth Bader Ginsburg could be confirmed unanimously. He praised Trump for attempting diplomacy with North Korea but said he's "completely wrong" in his pursuit of tariffs, which are provoking retaliatory measures that threaten to harm Tennessee's farmers and auto sector.
The brewing trade war is a rare national issue that has put Bredesen on offense. He said Trump ought to "reverse course" on his tariffs and endorsed Corker's legislation to require a president to gain congressional approval before imposing tariffs. The White House doesn't support that bill -- and neither does Blackburn. But in an indication of the fine line she's trying to walk, the congresswoman said the "tariffs are a very bad deal" and is "very concerned" they'll adversely impact her state.
"I'm staying in regular contact with the White House" to protect Tennessee jobs, she said.
Bredesen punched back at some ideas that have proliferated in the progressive wing of his party. He said abolishing Immigration and Custom Enforcement is "a really stupid idea," and warned that a federal jobs guarantee could be the "biggest bureaucratic mess in America." He said Medicare for all and free college are a "talking point" that don't mean much without a fleshed-out proposal.
And that's not all that he thinks Democrats are doing wrong.
"When you listen to the national party, it's like everybody who wants to have a gun must be wearing a t-shirt standing on the steps of a porch with a yellow dog hound. It was not like that at all," Bredesen said. "People who are in places like this take offense to that and I think it's a party that is not being sensitive to things that are important to them."