Trump Brings Old U.S. Enemies in From Cold
First it was Kim Jong Un. Then Vladimir Putin. Now Donald Trump has set his sights on a meeting with Iranian President Hassan Rouhani.
The U.S. president – who has vaunted his one-on-ones with the leaders of North Korea and Russia this summer despite criticism of the outcomes – said yesterday that he'd be willing to talk to Rouhani with "no preconditions."
The comments, which the White House appeared to later walk back, come with tensions between the two countries mounting after the U.S. withdrew from the 2015 nuclear deal. And an adviser to Rouhani said that a meeting would be difficult unless Trump returned to that accord.
Nevertheless, face-to-face talks could have far-reaching repercussions.
There are still doubts about whether Trump's actually made concrete progress towards convincing Kim to abandon his nuclear arsenal and even bigger concerns over what he said to Putin behind closed doors, but it's hard to contest that Trump is reshaping the international order.
The question is, to what end.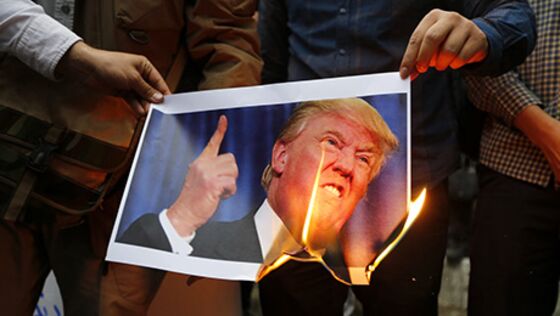 Rocket man, still | North Korea has continued to assemble intercontinental ballistic missiles in the weeks since leader Kim agreed to "work toward complete denuclearization" with Trump, the Washington Post reports. It's the latest evidence that Pyongyang is still expanding weapons production – despite halting nuclear tests and dismantling some test facilities – and that's all consistent with his promises to the U.S. Kim agreed to stop testing nuclear bombs and ICBMs but made no commitments to stop expanding his arsenal.
Manafort revelations | Former Trump campaign chairman Paul Manafort earned more than $60 million as a political consultant in Ukraine between 2006 and 2015 – and failed to report a significant percentage of those earnings – according to Special Counsel Robert Mueller. Jury selection begins today in Manafort's bank- and tax-fraud trial, the first major courtroom test of Mueller's probe of election meddling by Russia. Click here for more on the major players. 
Virtual warriors | Estonia, the tiny Baltic nation that borders Russia, is gearing up for cyber warfare by creating a 300-strong military unit for the virtual battlefield, Ott Ummelas reports. Estonia says it was hit by a Russian cyber-attack in 2007, a claim the Kremlin denies. While Russia's army is more than 150 times bigger, Estonia is an experienced online warrior as host of NATO's cyber-defense center.
Polish paradox | An economic boom has lifted living standards in the European Union's largest ex-communist country. But as Rodney Jefferson and Wojciech Moskwa write, a push by the ruling Law and Justice party to rewrite the nation's history in nationalistic terms is fueling xenophobia, worrying investors and offering a playbook for populists across the rest of Europe.
Erdogan under pressure | Time's ticking for Turkish President Recep Tayyip Erdogan to reach a deal to prevent U.S. sanctions over the two-year imprisonment of an American pastor. Turkey has been trying to use the cleric as leverage to negotiate a reduced fine for state-run lender Halkbank, which the U.S. is investigating for its role in a sanctions-evasion scheme with Iran.
The Trump administration will face tough questions from U.S. senators today at the first public hearing on the "zero tolerance" policy that saw thousands of migrant children separated from their parents.
Ahead of Thursday's party nominating contests in Tennessee, Sahil Kapur looks at how Democrat Phil Bredesen is making Republicans fret in a Senate race that should be a relatively easy win for the GOP.
And finally...After the wave of protests – and the giant "Trump Baby" balloon – that greeted the U.S. president in London this month, a petition to bar former White House strategist Steve Bannon from the U.K. is gaining steam. The petition has garnered more than 8,800 of the 10,000 signatures needed to get a response from Theresa May's government. Bannon told Reuters last week that he'll visit the Britain next month as part of his efforts to boost anti-EU sentiment across Europe.