Russia's Bulwark Against a 'Nuclear' Debt Option Is Showing Strain
(Bloomberg) -- Russia has called its debt sanctions-proof, popular enough among foreigners that the U.S. wouldn't risk imposing penalties on it.
But with some in the U.S. Congress now discussing that possibility and the share of overseas ownership of Russian debt declining, what one investor called the "nuclear option" of going after sovereign bonds is looking less implausible.
"This creates a material downside risk and makes us a lot less keen on Russian ruble government debt," Paul McNamara, a London-based fund manager at GAM UK Ltd., said of the latest sanctions proposals. The second-largest foreign holder of the debt, GAM is still overweight ruble government bonds but McNamara said, "we are monitoring the situation closely."
So far, the Russian finance ministry's debt chief is keeping faith that investors will stick around despite already pulling a record $6 billion out of the government's ruble securities last quarter.
"Right now we are seeing nothing dramatic, there's no mass exodus from our paper," Konstantin Vyshkovsky, the head of the Finance Ministry's debt department, said in an interview in Moscow. "It's a matter of some decline in activity."
But that drop -- amid a broad pullback across emerging markets -- has helped reverse the broadly steady downtrend in yields Russia had enjoyed since late 2016.
"We used to constantly see a growing trend -- foreigners boosting their OFZ positions, buying them not only in significant but in increasing volumes," Vyshkovsky said. "Now the trend has gone for the moment."
With their share down to 28 percent, the lowest since March 2017, the question is if it can stay sufficiently high to keep Russia's adversaries in America in check.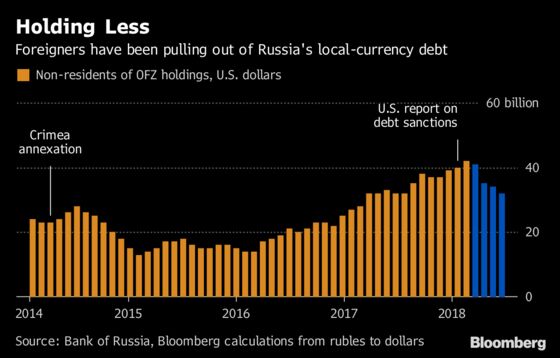 Legislators in the U.S. have renewed calls for punishing the Kremlin for alleged election meddling by sanctioning Russian sovereign bonds. While the bill being introduced by two leading senators is a long way from becoming a law, news of the proposal was enough to send yields to the highest level in a month.
There's no sign yet the U.S. Treasury has changed its view that Russia's bonds are too popular to sanction. A congressionally mandated report on the subject published in February concluded that expanding restrictions to new Russian sovereign debt and derivatives would destabilize markets and have "negative spillover effects into global financial markets and businesses."
Vyshkovsky embraced that view after the latest round of U.S. penalties in April, saying the Russian market would be more vulnerable if it were more isolated. Still, he conceded in the interview that the "sanctions factor" -- especially the move in April to widen them against wealthy Russian tycoons -- is having a temporary impact on non-resident holders of securities known as OFZs.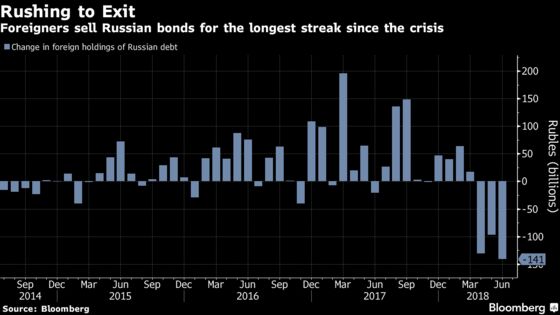 For the moment, though foreigners' share of the market has fallen, the overall volume of their holdings -- $32 billion in June-- remains above the level when the Treasury issued its report in February.
Vyshkovsky said the market remains attractive for local investors from a banking system awash in cash and foreigners attracted by Russia's strong fundamentals.
"There's no grounds now to believe these factors won't remain in effect," Vyshkovsky said.
"We don't see any fundamental factors -- economic or political -- that would dramatically reduce interest in our paper," he said. "That allows us to increase our borrowing program" next year without the need to resort to offering higher yields or shorter terms, he added.