Bolsonaro Says Black Brazilians Aren't Owed Anything Over Slavery
(Bloomberg) -- Jair Bolsonaro, a favorite in the Brazilian presidential race, said his country owed blacks no debt because of slavery and pledged to cut back affirmative action policies.
"What debt of slavery? I never enslaved anyone in my life," the former Army captain said in an interview on TV Cultura late on Monday. "Look, if you really look at history, the Portuguese didn't even step foot in Africa. The blacks themselves turned over the slaves."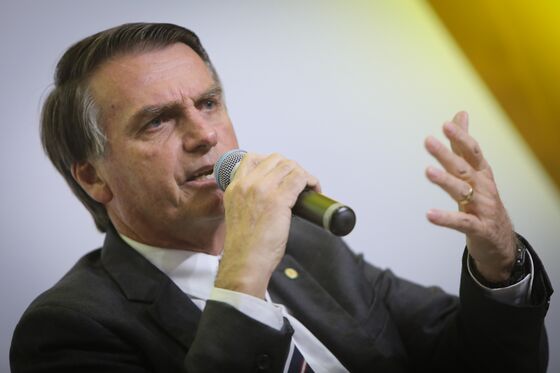 Under the leftist administrations of Presidents Luiz Inacio Lula da Silva and Dilma Rousseff, Brazil significantly stepped up university quotas for minorities and the poor, including for blacks.
Bolsonaro, who leads opinion polls that exclude the imprisoned Lula, said quotas are unfair and pit Brazilians against each other.
"I can't say that I'll end quotas, because it depends on Congress. At least decrease the percentage."
Brazil was one of the last large economies to abandon slavery in 1888, and it imported more slaves than any other nation. Roughly half of the country's 210 million inhabitants consider themselves black or dark-skinned, according to the national statistics institute.
"A big part of Brazil's white, upper-middle class tries to erase or obscure the violence that was slavery in Brazil," Frei David Santos, executive director of Educafro, an NGO that prepares Afro-Brazilian students for university entrance exams, said by phone. "Society's security isn't based on increasing the number of policemen nor killing criminals, but rather in giving opportunities to everyone."
During the TV interview, the 63 year-old congressman denied that the 1964 military takeover was a coup and said that alleged incidents of torture during the 21 years of dictatorship were mostly fabricated. He also said that U.S. President Donald Trump has had an "excellent administration" in reducing the tax burden and recovering employment.
"We can't continue with this social democracy here in Brazil," Bolsonaro said.