U.K. Heat-Related Deaths Set to Triple by 2050, Lawmakers Warn
(Bloomberg) -- Heat-related deaths are set to more than triple in the U.K. by 2050 if the government doesn't devise better plans to adapt to climate change, a panel of lawmakers said Thursday.
High temperatures that caused more than 2,000 deaths in a 2003 heatwave will become the summer norm by 2040, the Environmental Audit Committee said in a report. Without action from the government on issues such as building codes and health care, annual deaths could reach 7,000, the panel said in a statement.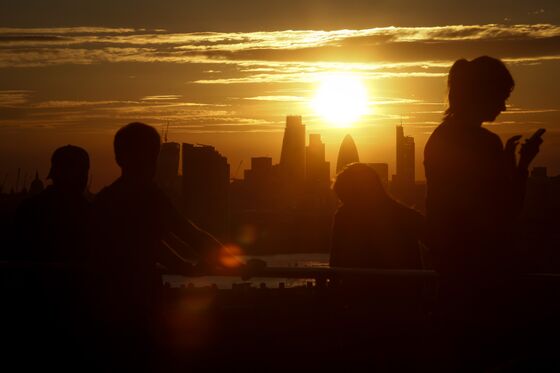 "Heatwave warnings are welcomed as barbecue alerts, but they threaten health, well-being and productivity," Committee Chair Mary Creagh said in the statement. "The government needs to do more to warn the public of the health risks of heatwaves, particularly when they fall outside of the summer period, and should appoint a minister to lead work across government."
The report comes as the U.K. basks in a prolonged heatwave that's already seen it register the highest average June temperatures since 1940, as well as breaking several regional records. The Met Office predicts temperatures as high as 36 degrees Celsius (97 degrees Fahrenheit) on Thursday and Friday, with the potential for the July record of 36.7 degrees to be broken. In a country famed for its drizzle, parts of Eastern and Southeastern England haven't had significant rainfall since May 29, according to the forecaster.
Creagh's committee called on the government to take measures including:
Ensuring the National Health Service plans for more frequent heatwaves, including annual plans for regional bodies and hospitals
Changing building regulations to prevent overheating
Ensure cities have a target to increase green spaces
Introduce stricter water efficiency standards
Issue public health warnings with formal guidance to employers to relax dress codes and allow flexible working during heatwaves
Relaxing school uniform policy during hot weather