Trump, Juncker Go Head-to-Head on Trade
The bobbing and weaving that has made Donald Trump a capricious sparring partner for other world leaders has been on display ahead of the U.S. president's trade talks today with European Commission President Jean-Claude Juncker.
The EU chief told a German television station his goal was to "calm down the overall situation" but that the EU was prepared to retaliate "immediately" if Trump moves ahead with the auto tariffs.
Underscoring how fraught the trans-Atlantic relationship has become, the last time Trump met Juncker he called the Luxembourger "a brutal killer." Recounting the incident to Bavaria's regional parliament, Juncker said he thought it had been meant as a compliment, "but I'm not so sure."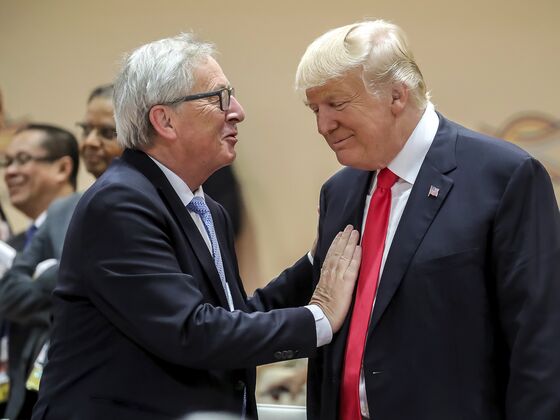 Tale of the tape | A 2016 recording of a conversation between Trump and his then-lawyer Michael Cohen appears to show Trump was informed of an attempt to bury news of an alleged affair with a Playboy model. Trump lawyer Rudy Giuliani said the tape – which aired on CNN last night – suggests his client didn't previously know about the payments. But the contents could be politically damaging for the president.
May takes charge | Theresa May moved to take personal control over the U.K.'s negotiations on leaving the EU, downgrading the role of her new Brexit secretary. The pound rose, as the move is seen as reinforcing the prime minister's bid for a softer split. Yet while the EU is likely to respond positively, hardline euroskeptic Tories say May is destroying their dream of a clean break with the bloc.
Dam collapse | Hundreds are missing and at least 20 people are dead in Laos following the collapse Monday of a dam connected to a $1 billion project backed by its Communist government as well as Thai and South Korean companies. Laos is one of the countries attempting to harness the hydroelectric power of the mighty Mekong River, one of the world's great ecosystems.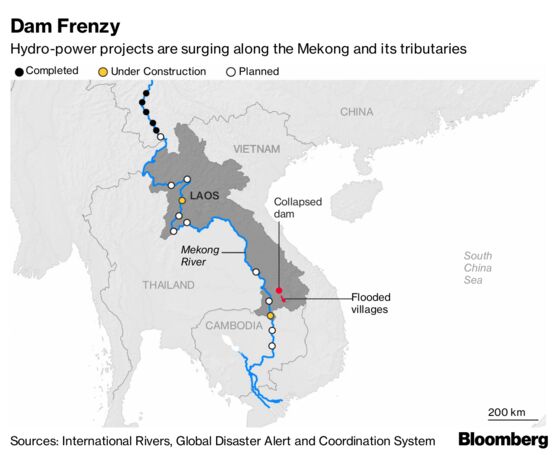 Damage control | In a meeting of his lawmakers last night, Emmanuel Macron took full responsibility for the handling of the fallout from his bodyguard's assault on protesters. Politically, the French president is safe for now, but three quarters of voters believe he's been damaged by the affair. "This movie is not over," says Bernard Sananes, president of Elabe polling company.
Organized crime | Welcome to the train robbery capital of the world – Acultzingo, Mexico –  where 521 heists were committed over the past year alone. Many were massive, choreographed affairs that started with a trick dating back to Wild West days – piling rocks up high on the tracks  –  and involving small armies of thieves. Andrea Navarro and Nacha Catta report on the crime wave south of the border.

What to watch today:
Pakistanis are casting ballots in a closely fought election that will determine the course of the nuclear-armed nation central to U.S. anti-terrorism efforts and China's global infrastructure ambitions. Voting has been marred by a deadly bombing in Quetta.

U.S. Secretary of State Michael Pompeo will find one of his rare appearances on Capitol Hill rough going as he seeks to soothe senators exasperated by Trump's strategy on everything from Russia and NATO to North Korea.
Quote of the day …  After more than 70 people were killed in Greece's worst forest fires in decades, Prime Minister Alexis Tsipras had these words for citizens in a televised address : "We mustn't let mourning overwhelm us, because these hours are hours of battle, unity, courage and above all solidarity."