Serbia Floats Ethnic Partition in Search of Kosovo Deal
(Bloomberg) -- Serbia's proposal to normalize ties with Kosovo may include some form of partition along ethnic lines to try to halt an outflow of Serbs from areas dominated by ethnic Albanians, President Aleksandar Vucic said.
"It's better to get something than nothing," said the president, who is yet to outline details of his plan that may bring a breakthrough after years of European Union-mediated talks between Serbia and Kosovo that have failed to mend ties. The former foes need to reach a deal to free up their path to the EU.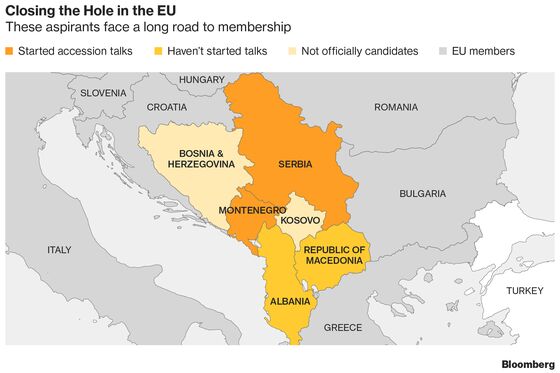 Some 120,000 Serbs live in Kosovo, which declared independence from Serbia in 2008 following the 1998-99 war. On Wednesday, Vucic's rebuffed criticism from the influential Serbian Christian Orthodox Church, which warned any partition would mean giving up on Serbs scattered throughout Kosovo.
"Don't they see that our people are moving out already?" he said. "Today, we have almost no chance to get anything" as most EU countries and the U.S. have recognized Kosovo as a sovereign country, he said. Russia and China back Serbia in its refusal to recognize Kosovo.