Ireland Says It Would Support U.K. Request to Delay Brexit
(Bloomberg) -- Ireland would back any request by the U.K. to stay in the European Union after March 2019, Irish Foreign Minister Simon Coveney said, the first senior EU official to publicly raise the prospect of Brexit being delayed.
The Irish government would "absolutely" support the British government if it sought more time for negotiations with the bloc, Coveney told BBC Radio 4 on Wednesday, adding that politicians should work toward a compromise to ensure that a no-deal Brexit with "significant" costs to both sides is averted.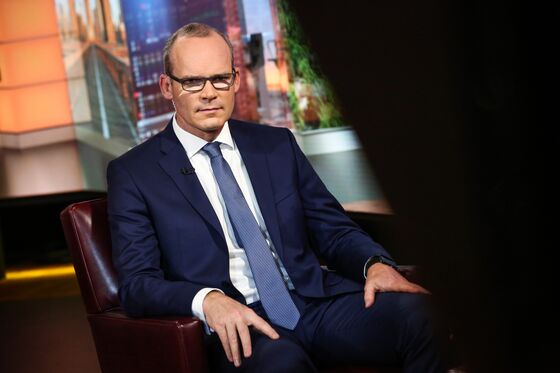 "I don't believe that a no-deal Brexit or Britain crashing out of the EU is likely to happen," Coveney said. "Even though the timeline is tight, it is possible to achieve an outcome that's good for Britain, that's good for the EU."
Though senior European officials have previously privately questioned whether the talks will finish on time, Prime Minister Theresa May's government has repeatedly ruled out an extension. It is stepping up plans for a no-deal Brexit, with Brexit Secretary Dominic Raab warning on Tuesday of the need to ensure adequate food supplies if the U.K. does leave the bloc without an agreement.
A move to extend the Brexit deadline, which Article 50 of the EU Treaty sets at two years after a formal notice to leave the bloc, would have to be requested by Britain and agreed to unanimously by the 27 remaining EU governments.
But the U.K. has also said its preference is for a deal, and the prime minister's decision to take full control of negotiations with the EU -- responsibility had been split with the Brexit Department -- is likely to have boosted her chances of getting one. From the EU's perspective, it represents an end to the power struggle in the British government which had hindered progress.
Both sides are aiming to strike a deal at the EU leaders' summit in October, though talks have been held up while Britain came up with a blueprint for how it sees its future relationship with EU. There's also still no agreement on how to keep the Irish border effectively invisible after Brexit.
May's preference for a soft Brexit was finally put in writing this month, which Coveney welcomed as a "step forward" -- though he warned parts of her plan will be "difficult to negotiate" with the EU focused on protecting its single market.
In particular, her customs proposal -- in which British officials would collect EU tariffs at the U.K. border on goods destined for other countries in the bloc -- is "complex," Coveney said, while the plan to separate goods from services in a trade agreement could also be "difficult."
"What's needed now is to give the professional negotiators some time and space to actually tease through those proposals, and see what the EU can accommodate and what is difficult to accommodate," Coveney said.
Coveney was speaking ahead of a British-Irish Intergovernmental Conference in London on Wednesday. In addition to the post-Brexit Irish border, talks are also likely on how to restore a power-sharing government in Northern Ireland, where the region's assembly is currently suspended.