Britons Spend More Than They Earn for First Time Since 1988
(Bloomberg) -- Are Britons living beyond their means?
That's the question being asked by the Office for National Statistics after households saw their outgoings exceed their incomes last year for the first time in three decades.
Each household spent or invested about 900 pounds ($1,187) more than they received on average -- 25 billion pounds in total, according to an ONS article published Thursday. Britons were previously net borrowers in 1988, the height of a credit-fueled economic boom generated by then Chancellor of the Exchequer Nigel Lawson. But even then the shortfall was just 300 million pounds.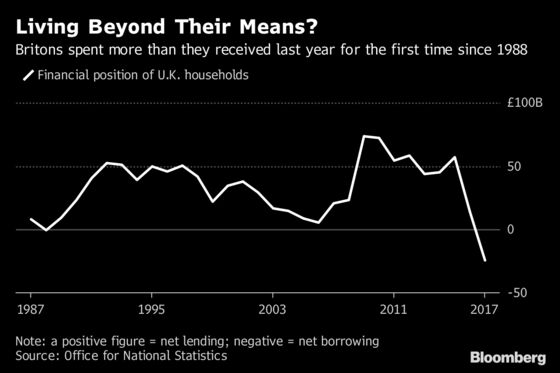 To fund the deficit people have been borrowing more and saving less, encouraged by years of record-low interest rates. Even in the run up to the 2008 financial crisis, when homebuyers were granted mortgages covering the entire value of the property and sometimes more, households were still net lenders, the ONS said.
"If any more evidence were needed that the Bank of England has left it too late to raise interest rates, this is pretty compelling," former BOE policy maker Andrew Sentance, who is now a senior economic adviser at PwC, tweeted. "U.K. households are on a massive borrowing spree."
Excess spending was most pronounced among low-income households, with the poorest 10 percent spending 2 1/2 times their disposable income on average. Britain is now closer to the U.S. and Canada, countries long familiar with household budget pressures, than it is to Germany and France where people are more inclined to save.
The analysis comes on the same day the House of Commons Treasury Committee published a report warning that Britons have too much debt and are saving too little for retirement, with an estimated 12 million people failing to prepare adequately for old age.
Britons owe a record 1.6 trillion pounds including mortgage debt and there are fears that many may struggle to cope with higher borrowing costs after years of ultra-loose monetary policy. BOE officials are widely expected to raise their benchmark rate on Aug. 2.
Planning decades ahead is impossible for many people who are already in debt, said the Treasury Committee. It warned that the "overzealous and uncompromising" debt-collection practices of public authorities risked deepening the misery of the most vulnerable.
"Over-indebtedness, lack of rainy-day savings and insufficient pension savings are some of the weaknesses in the household balance sheet identified in this inquiry," said Nicky Morgan, chair of the cross-party panel. "Whilst financial-service regulators and guidance bodies have important roles to play, the government should not pass the buck to them."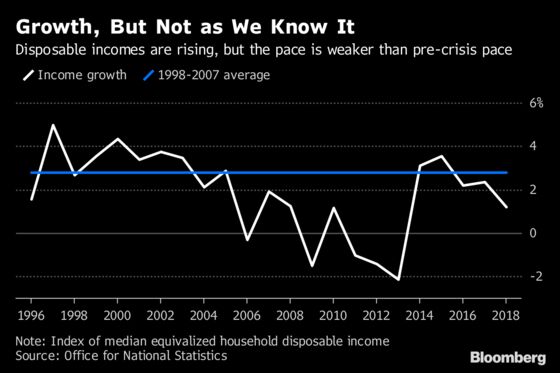 The committee highlighted the damage to family budgets inflicted by the financial crisis and the years of austerity that followed. ONS figures Wednesday showed real disposable incomes grew at the slowest pace in five years in the 12 months through March after the Brexit referendum slammed the pound and drove up inflation.