Uribe to Resign From Colombian Senate Amid Criminal Inquiry
(Bloomberg) -- Colombia's former President Alvaro Uribe said he will resign from the Senate after the nation's top court said it was formally investigating him.
"The Supreme Court has summoned me for questioning," Uribe said in a post on Twitter. "They did not hear me previously. I feel morally impeded to be senator. I will send my letter of resignation so that my defense does not interfere with the duties of the Senate."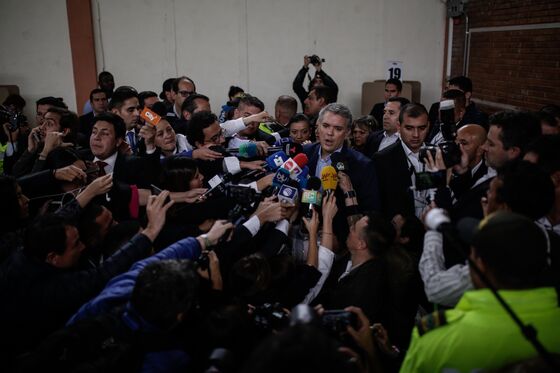 The new congress was sworn in last week. Uribe, who led the country from 2002 to 2010, would have been the most influential congressional ally of incoming President Ivan Duque, who takes office Aug. 7.
The court said in a statement that it is investigating Uribe for alleged manipulation of witnesses. The case began when Uribe accused opposition Senator Ivan Cepeda of bribing jailed former paramilitaries to link him falsely to death squads.
The court found in a ruling earlier this year that Cepeda hadn't paid the paramilitaries, and instead found that people tied to Uribe had been manipulating witnesses.
"This is a seismic shift in Colombian politics," said professor Jorge Restrepo, an economist who heads a think tank that monitors the nation's conflict.
Uribe's exit from congress removes an important source of support for Duque, but at the same the time could boost Duque's ability to act independently of his mentor, Restrepo said. Duque has pledged to cut taxes on corporations, and his allies in congress said they planned to introduce a tax reform bill as soon as the new government takes office next month.
"It makes it harder for Uribe and Duque's party to move the new president's legislative agenda through the Senate," said Adam Isacson, a Colombia expert at the Washington Office on Latin America. "Nobody else in that party's bloc is enough of a political heavyweight to do the necessary arm-twisting."