Sun King 2.0 Has a Bug
That's not what French voters thought they were getting when they made Emmanuel Macron their youngest leader since Napoleon last year.
Rather than progressive and modern, 40-year-old Macron is more often described as aloof, haughty or – even worse in France - monarchist.
All this was brought into focus this week by news that Macron's private bodyguard beat up protesters at a demonstration in May –  and was then shielded by the president's inner circle when they found out.
In just over a year in office, Macron has made a good start on his policy agenda, implementing labor market reforms, overhauling the national rail company and cutting taxes for business. But his plans for euro-area integration faltered, a constitutional tweak to make the French legislature more agile is now in danger, and his approval rating is sliding.
Next year he's tackling the mother of all reforms: the French public pension system. That's shaping up as a defining test of his youthful promise.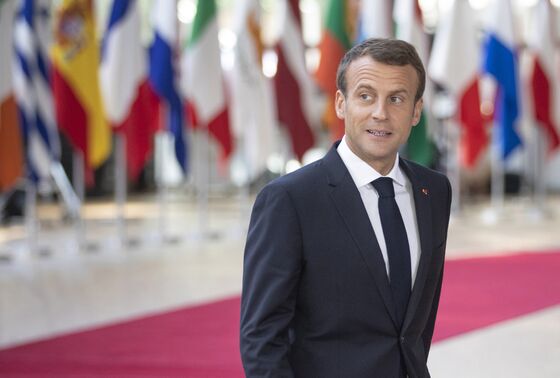 No obstruction questions | Donald Trump's lawyers said he'd agree to an interview with Special Counsel Robert Mueller's investigators if it's limited to questions on whether his presidential campaign colluded with Russia in the 2016 election. His legal team has submitted the proposal to Mueller, who has yet to respond, Trump lawyer Rudy Giuliani said last night.
Friend or foe? | We'll see just how bad the U.S. relationship with the EU has become when European Commission President Jean-Claude Juncker meets Trump in Washington tomorrow intending to head off a trade war, writes Marc Champion. Also on the list of challenges to the transatlantic alliance are security and the Commission's antitrust actions against U.S. tech giants, including a record 4.3 billion euro ($5 billion) fine against Google that Trump has railed against on Twitter.
Election jitters | Zimbabwe's first election since Robert Mugabe was forced out is facing a credibility problem even before voters line up to cast their ballots. The main opposition says the electoral commission is biased in favor of new President Emmerson Mnangagwa, a concern the panel has dismissed. Failure to produce a credible result on July 30 would hinder efforts to rebuild an economy driven to ruin during Mugabe's 37-year rule.
Urban youth vs. feudal fiefdoms | Pakistan's local power brokers may end up as kingmakers in the nuclear-armed nation after elections tomorrow, with no single party likely to win a parliamentary majority. For national politicians, courting large rural landholders is a Catch 22: Their support is essential to win, but many tend to oppose measures like modernizing labor and tax laws that would boost growth in the cash-strapped nation.
Italian battle lines | The key divide that will shape Italy's populist coalition is starting to emerge as ministers prepare for budget negotiations to begin in earnest after the summer recess. Rookie Finance Minister Giovanni Tria is defending EU budget rules while political heavyweights who control parliament insist tax cuts and benefits spending must come first. Investors could be in for a ride.
The presidents of Brazil, Chile, Colombia, and Peru are in Mexico for a two-day regional trade summit, where yesterday three people familiar with the Nafta negotiations told Eric Martin and Toluse Olorunnipa that Mexico is redoubling its efforts to reach an agreement with the U.S. and Canada by the end of August.
And finally... Sweden is buckling under a record heat wave and drought that has turned their vast forests into kindling. The country called on help from its fellow EU members to battle the worst forest fires the nation has ever seen. Now many Swedes are questioning how prepared they are to tackle the risks that come with climate change, something that's likely to be a topic as the nation faces a general election in September.