May Tells U.K.'s Leave-Voting Heartlands They Need a Soft Brexit
(Bloomberg) -- Theresa May traveled to Britain's pro-Brexit industrial heartland to sell her plan to keep close ties to the European Union, as she battles to win support for her blueprint for future trade with the bloc.
The prime minister said supply chains for carmakers based in the region -- including the major Nissan plant in Sunderland -- depend on "frictionless" trade with the EU's single market, and that means sticking closely to its rules.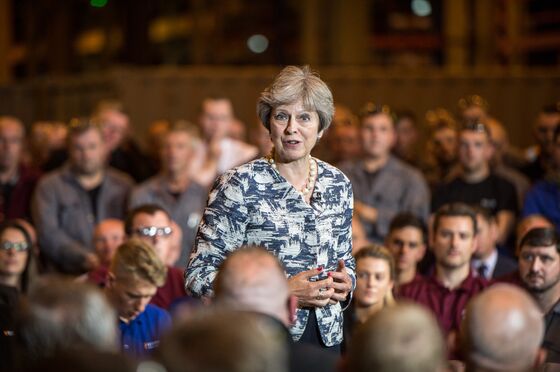 "This is a complex issue and the question people were asked was a simple one -- leave or remain," May told an audience at Reece Group, an engineering firm in Newcastle, on Monday. "But behind that, in terms of the negotiations, are whole layers of complexity in terms of the future relationship."
May has faced a backlash from hardline Brexit campaigners inside and outside her government since publishing a 98-page prospectus for the U.K.'s future trade terms with the EU on July 12. She detailed plans for a new free-trade area, in which British companies would comply with European market regulations for manufactured goods and agricultural and food products.
But Brexit campaigners say she's betraying their vision of a clean break with the bloc. Two pro-Brexit ministers -- Boris Johnson and David Davis -- quit May's Cabinet in protest at her plans to keep close to the EU and adopt a so-called "common rule book" for trade in goods.
Time is running short for May to get a deal with the bloc on the terms of the divorce at October's summit of EU leaders. The U.K. is scheduled to leave the EU on March 29 -- with or without an agreement.
Even if she persuades her Cabinet and Parliament to back the plan, May still needs to get a deal agreed with the EU. She insisted European officials had made "constructive responses" so far. "I won't say that you won't hear some negative things being said," the premier added.
It was a rare unscripted appearance from May, whose mechanical performances on the campaign trail last year earned her the nickname "the Maybot." Her decision to gamble on an early general election ultimately backfired.
On Monday, the prime minister was asked how she managed to relax doing such a stressful job. "I enjoy cooking, which has a benefit because you get to eat it as well as make it," she said.