Manafort Provides Mueller First Court Test: Trump Legal Update
(Bloomberg) -- U.S. Special Counsel Robert Mueller's first test in court is set to start this week in Alexandria, Virginia, where President Donald Trump's former campaign chairman Paul Manafort is to be tried on bank-fraud and tax charges. Mueller's coming loaded for bear, armed with almost 500 pieces of evidence that he could present to a jury, as well as five potential witnesses who've been promised immunity to testify against Manafort.
Mueller's probe, which most recently faulted 12 members of Russia's intelligence service for orchestrating the hacks of the 2016 U.S. presidential election, is dominating U.S. and international politics and hung over Trump's meeting in Helsinki with Russian President Vladimir Putin. The fallout from the two leaders' press conference, which followed their two-hour-plus, closed-door session on July 16, may provide cover for Mueller to finish his investigation of Russia's interference in the election.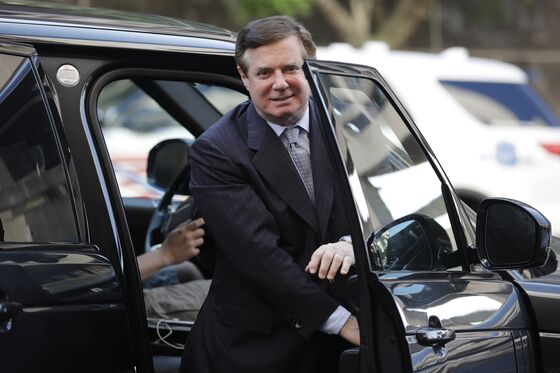 In a separate probe, U.S. prosecutors spun a tale worthy of a motion picture script in accusing a 29-year-old Russian national and gun-rights advocate of using sex and connections with groups including the National Rifle Association to try to influence American politics.
Capping the week was the revelation that Michael Cohen, Trump's longtime personal lawyer, had his old boss on tape. Shortly before the election, according to a person familiar with the matter, Cohen recorded a discussion he had with Trump about paying a former Playboy model who said she'd had an affair with Trump, a possible campaign-finance law violation. Now that federal authorities in New York are sorting through devices and documents seized from Cohen, the latest report raises questions about what else Cohen may have memorialized, and the potential legal danger his cooperation could pose to the president.
These are highlights from the past week in the myriad legal cases entangling people around Trump and foreigners who attempted to aid his election, and what to watch in the coming week:
Manafort's trial is set to kick off July 25 with jury selection, a task that might be tougher than normal given the amount of interest the matter has generated. The publicity is so intense around Alexandria that Manafort sought to move the trial to the southern part of the state. The judge rejected the request. Actually, practically every pitch Manafort's team tossed the judge recently -- from trying to stop prosecutors from using evidence at trial that was seized in searches, to letting him stay in a VIP cell two hours from Alexandria -- have been swatted aside.
Manafort, 69, has confounded expectations that he would fold and cooperate with Mueller, as several others have. Despite deteriorating finances, failed pretrial motions and betrayal by his right-hand man, Manafort has held fast even while in jail and maintained his innocence.
The former lobbyist for pro-Russian politicians in Ukraine is accused of filing false tax returns and failing to disclose offshore financial accounts. He must also defend against charges that he lied to banks to secure $20 million in loans. To convict Manafort of the tax crimes, jurors will have to conclude that Manafort knew the law and broke it anyway.
Among the hundreds of pieces of evidence that prosecutors said last week that they may show to the jury are a list of his multimillion-dollar homes (with photos of a putting green and a pergola); pricey suits and a watch; bank records from Cyprus, the U.K. and St. Vincent and the Grenadines; and tax documents showing Manafort said he didn't have income from foreign sources. It'll be a tough rap to beat: "He's in huge trouble," said one former federal prosecutor.
A final pretrial hearing is scheduled for July 23, with the trial expected to last about three weeks.
Regardless of the Virginia verdict, Manafort is due for a trial on more charges in September in Washington. There, he's accused of money laundering, obstruction of justice and acting as an unregistered foreign agent. The D.C. judge revoked his bail and sent him to jail after prosecutors said Manafort tried to tamper with witnesses. A pretrial hearing in that case is scheduled for July 24.
Here are some of recent stories on the Manafort case and a link to the Special Counsel site:
Russian Hacks, Mueller's Shadow
After 12 members of the GRU, Russia's military intelligence agency, were indicted as part of the Mueller probe last week, Trump stood next to Putin in Helsinki and railed against the investigation as "a disaster for our country." But the charges and Trump's response might have given the special counsel some breathing room. Afterward, senior GOP leaders said Mueller needed to be allowed to finish the job. House Speaker Paul Ryan told reporters that "Russia is trying to undermine democracy itself."
Putin, in his remarks, suggested Mueller's investigators could sit in on interviews with the accused hackers in Moscow if the U.S. would let Russians in on interrogations of Americans, including former ambassador Michael McFaul. Trump called it an "incredible" offer. Diplomats and intelligence veterans called it an outrage, if not outright treason, and the offer was opposed by the Senate in a rare unanimous vote.
In response to public-records lawsuits, the government on Saturday released a heavily redacted version of the document that was used to apply for a wiretap of campaign adviser Carter Page in October 2016 from the Foreign Intelligence Surveillance Court. While Trump and his Republican allies have cited it as proof Mueller's investigation is a "witch hunt," Republican Senator Marco Rubio of Florida agreed with Democrats on Sunday that the FBI was justified in seeking the surveillance.
Whether Trump will agree to be questioned by Mueller's team remains unclear. In a July 18 interview with CBS News, the president repeated that he'd be willing. His lawyer, Rudy Giuliani, told CNN a day later that Trump "has accepted this idea" that he can't agree to a wide-ranging interview with Mueller.
The special counsel's team has now indicted more than 30 people and three Russian companies, and secured five guilty pleas -- with several of Trump's former associates also agreeing to cooperate. Mueller appears to be far from finished.
Here are some of recent stories on Mueller's investigation:
Cozying Up to the NRA
In a separate case from Mueller's probe, a 29-year-old Russian was accused of using a network of influential Americans to try and sway political activities in the country, in at least one case offering sex in exchange for a position with a special-interest organization. The red-headed, gun-brandishing alleged operative, Maria Butina, worked closely with a Russian official close to Putin, and together they built ties in particular with one organization, the National Rifle Association, U.S. authorities said.
The Russian official wrote to Butina prior to her arrest that she "upstaged Anna Chapman," a Russian spy who was among 10 arrested in 2010. Butina was denied bail by a U.S. magistrate judge who called her a flight risk, thanks to her circle of Russian diplomats and oligarchs who could whisk her from the country.
Prosecutors also said they're conducting a fraud investigation of a U.S. operative who lived with Butina and provided her with access to influential U.S. conservatives. A hearing is scheduled for July 25.
Russia's foreign ministry has started a social media campaign with the hashtag #FreeMariaButina
Here are some recent stories on the Butina case:
Meanwhile, in New York, there's new drama surrounding the federal investigation of former Trump lawyer Cohen. Two months before the election, he secretly recorded a phone conversation with Trump in which they discussed hush payments to a former Playboy model who said she had an affair with Trump. Cohen and Trump can be heard discussing a plan to buy the rights to her story from American Media Inc., which paid her $150,000 for it, the Washington Post reported.
Cohen's lawyers found the recording during a review of the evidence seized during the FBI search and shared it with Trump's lawyers, raising the question of what else the fixer may have recorded.
Cohen is still waiting to see whether federal prosecutors in New York charge him with anything related to his businesses. The man who had said he'd "take a bullet" for Trump, has been distancing himself from the president, including by hiring lawyer Lanny Davis, a fierce Trump critic and a former attorney for President Bill Clinton.
Trump lashed out at Cohen on Twitter, saying in a posting early Saturday: "Inconceivable that the government would break into a lawyer's office (early in the morning) - almost unheard of. Even more inconceivable that a lawyer would tape a client - totally unheard of & perhaps illegal."
On July 20, Cohen confirmed on Twitter that he met with Reverend Al Sharpton. "I have known Rev for almost 20 years. No one better to talk to," Cohen said on Twitter, responding to Sharpton's tweet: "Just spent an hour w/Michael Cohen, Trump's former attorney. I bet you're wondering what we could be talking about. Stay tuned."
Meanwhile, a retired judge reviewing material seized by the FBI in April rejected on July 19 more than a third of items designated by Cohen's legal team and others involved in the case as privileged, or partly privileged. Out of 4,085 items, Barbara Jones ruled 1,452 items aren't privileged.
Here are some of the most recent stories on Cohen's travails:
Cohen, who as Trump's lawyer also arranged a payment to adult-film star Stephanie Clifford, asked a judge in Los Angeles on July 17 to extend a hold on her lawsuit seeking to void the agreement for another 90 days, citing the federal criminal investigation in New York. A hearing is scheduled for July 27.
Clifford was paid $130,000 shortly before the 2016 election in exchange for keeping silent about a tryst she says she had with Trump in 2006. She's better known under her stage name Stormy Daniels.
Clifford's lawyer, Michael Avenatti, found himself drawn into another sex scandal. This one involves Shera Bechard, a former Playboy model who allegedly had an affair with Elliott Broidy. She didn't get all the money she was promised to remain quiet. Broidy was a top Republican fundraiser at the Republican National Committee along with Cohen, who negotiated the deal for Broidy. Bechard sued Avenatti, Broidy and Keith Davidson, the lawyer who originally represented Bechard as well as Clifford. The reasons for her suit and Avenatti's role aren't clear: The case was sealed as soon as it was filed.
A California state judge in Los Angeles on July 10 denied Avenatti's request to immediately unseal the complaint.
Here are some of recent stories on Clifford and Avenatti:
Trump's former national security adviser, Michael Flynn, who was fired for having lied to the FBI and the vice president about his contacts with Russians, is a key cooperating witness in Mueller's probe. He's awaiting to be sentenced for having lied to the FBI about contacts he had with Russians. A judge asked to be updated on the status of his case by Aug. 24.
Former Trump campaign advisers Rick Gates and George Papadopoulos also pleaded guilty to lying to the FBI.
Here are some of recent stories on Flynn:
Russian Trolls and Fake News
Concord Management, a company led by Russian businessman Yevgeny Prigozhin, asked a Washington judge on July 16 to throw out charges accusing it of backing a wide-ranging attempt to influence the U.S. election. The company is among two other businesses and 13 people charged in February for engaging in a years-long, multimillion-dollar conspiracy to undermine Democratic presidential candidate Hillary Clinton.
Concord's request for dismissal is relying, in part, on a ruling by Trump's nominee for the Supreme Court, Brett Kavanaugh. In a 2011 ruling cited by Concord, Kavanaugh wrote: [W]e caution the government that seeking criminal penalties for violations of [law regulating foreign nationals' political contributions or expenditures] will require proof of defendant's knowledge of the law. There are many aliens in this country who no doubt are unaware of the statutory ban on foreign expenditures..." The next hearing is set for Aug. 3.
Previously, the Democratic National Committee sued Russia, the campaign, WikiLeaks and Trump's associates claiming widespread election interference. After numerous failed attempts, Jared Kushner's lawyer agreed to accept service of the DNC lawsuit last week. The case in Manhattan could force campaign staffers to answer questions under oath. A hearing is scheduled for Sept. 13.
Here's a story on Kushner response:
Tax Returns, Trump Foundation
The president is fighting claims he's using his office to boost his businesses. Trump is accused in several lawsuits of violating the Constitution's foreign emoluments clause by taking payments from foreign governments at his Washington hotel, golf courses and elsewhere, as well as the domestic clause that bars payments from federal or state governments.
A lawsuit has been brought by about 200 Democrats in Congress and another by some state attorneys general. A third case, by an ethics watchdog group and restaurant competitors of the Trump Organization, is on appeal after a Manhattan federal judge tossed it out. The cases could force Trump to divest his holdings or put them in a blind trust. At a minimum, the plaintiffs will seek Trump's tax returns.
New York Governor Andrew Cuomo's administration is investigating whether Trump's charitable foundation violated state tax laws, said a person familiar with the probe. That could complicate a separate civil lawsuit against the foundation if it results in a criminal referral to the New York attorney general's office.
The state sued to dissolve Trump's charitable foundation, claiming it persistently broke state and federal laws through improper political activity and self-dealing. A judge has urged Attorney General Barbara Underwood and the foundation to settle most of the lawsuit quickly.
Here's a recent story on the foundation lawsuit:
New Trump Charity Probe Might Complicate New York Civil Lawsuit
The Manafort cases are U.S. v. Manafort, 17-cr-201, U.S. District Court, District of Columbia (Washington), and 18-cr-83, U.S. District Court, Eastern District of Virginia (Alexandria).
The Butina case is U.S. v. Butina, 18-cr-00218, U.S. District Court, District of Columbia (Washington).
The Cohen case is In the Matter of Search Warrants Executed on April 9, 2018, 18-mj-3161, Southern District of New York (Manhattan).
The Russian GRU hackers case is U.S. v. Netyksho, 18-cr-215, U.S. District Court, District of Columbia (Washington).
The hacking indictment is U.S. v. Concord Management, 18-cr-00032, U.S. District Court, District of Columbia (Washington). The DNC case is Democratic National Committee v. the Russian Federation, 18-cv-3501, U.S. District Court, Southern District of New York (Manhattan).
The Clifford cases are Clifford v. Trump, 18-cv-2217, U.S. District Court, Central District of California (Los Angeles); Clifford v. Trump, 18-cv-3842, U.S. District Court, Southern District of New York (Manhattan); and Clifford v. Davidson, 18-cv-5052, U.S. District Court, Central District of California (Los Angeles).
The Playmate case is Bechard v. Broidy, BC712913, California Superior Court, Los Angeles County (Los Angeles).
The Denson case: Denson v. Trump, 18-cv-2690, U.S. District Court, Southern District of New York (Manhattan).
The Flynn case is U.S. v. Flynn, 17-cr-232, U.S. District Court, District of Columbia (Washington).
The Apprentice case is Zervos v. Trump, 150522/2017, New York Supreme Court, New York County.
The emoluments cases are Blumenthal v. Trump, 17-cv-1154, U.S. District Court, District of Columbia (Washington); District of Columbia v. Trump, 17-cv-1596, U.S. District Court, District of Maryland (Greenbelt); Citizens for Responsibility and Ethics in Washington v. Trump, 17-cv-00458, Second U.S. Circuit Court of Appeals (Manhattan).
The Trump Foundation case is People of the State of New York v. Trump, 451130/2018, New York Supreme Court, New York County.
The driver's case is Cintron v. Trump Organization LLC, 653424/2018, Supreme Court, State of New York (Manhattan).