Bowing Samsung Chief Heralds Economy Shift by South Korea's Moon
(Bloomberg) -- When South Korean President Moon Jae-in was greeted with four deep bows from de facto Samsung Group chief Jay Y. Lee earlier this month in India, the footage quickly went viral back home.
The overseas encounter between two of South Korea's most powerful men -- their first since Moon's election on an anti-establishment platform last year -- struck a chord. The meeting was the most visible sign yet that the president, who once decried the cozy ties between government and the country's industrial giants as a "deep-rooted evil," was courting business support as his economic policies fall flat.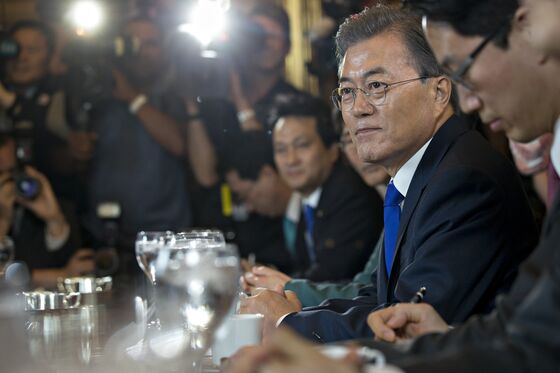 "It gave me an impression that Moon's government is realizing that they have to lead discussions with conglomerates, which have played a major role for the economy and are represented by Lee," said Howard Lee, a managing director for investment bank BDA Partners in Seoul. "They're not enemies and have to work together."
More than a year into his single five-year term, Moon faces growing resistance to his pledges to build an "income-driven" economy as hiring slows and investment falls. The president's once-lofty poll numbers have slid amid opposition to the government's plan to increase the minimum wage by 10.9 percent -- a move opposed by both employers who must cover the costs and workers who were expecting more.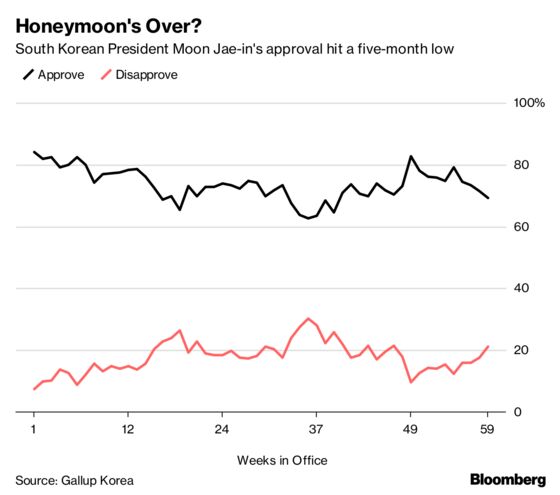 Business groups warned the new rate could force some employers to close, weighing on an economy already seen as vulnerable to any decline caused by U.S. President Donald Trump's tariffs. South Korea's finance ministry last week lowered this year's projected economic growth to 2.9 percent, down from an earlier forecast of 3 percent.
"All my friends voted for Moon, but one of them got fired recently from a convenience store because the owner decided to work himself," said Choi Jae-young, a 24-year-old student who's looking for work after he completes his degree in the U.S. "I feel that we're still far away from the world that Moon described as the future under his presidency. The job market isn't any better."
The public has focused more on economic issues as the glow fades from Moon's historic April summit with North Korean leader Kim Jong Un. In recent weeks, the government has conveyed a more business-friendly message, with Moon's trade-and-industry minister pledging "strategic cooperation" with companies while he promotes deregulation and the role of local conglomerates -- known as "chaebol" -- in creating jobs.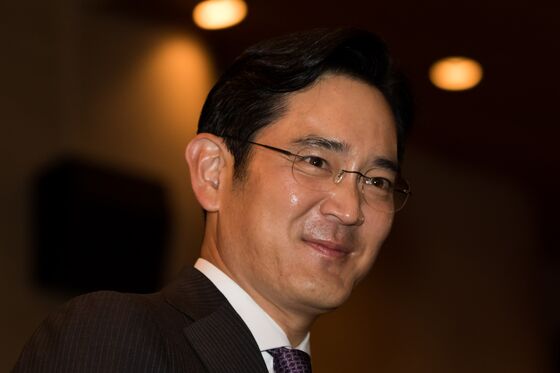 "Income-driven, innovation-based and fair economies should be pursued at the same time," Moon told a meeting of senior aides Monday. "I'd like to emphasize again that we can't choose one over another."
During a five-minute meeting with Lee on July 9, Moon praised Samsung for supporting India's growth and urged the company to "invest more and create more jobs" at home as well, presidential aide Yoon Young-chan told reporters. Lee responded that he would make a greater effort.
Moon "floated the idea of an 'income-driven' economy to improve ordinary citizens' livelihoods, but that's not yielding quick positive results and North Korean issues aren't something that Moon himself can fully control," said Ka Sang-joon, a political science professor at Dankook University. "That means Moon will now focus more on job creation, unemployment and other economic issues."
The discussion with Lee was symbolic not least because Samsung, whose revenue is equivalent to about one-fifth of South Korea's gross domestic product, was opening the world's largest mobile phone factory in India. Lee was also the most high-profile executive embroiled in a influence-peddling scandal that brought down former South Korean President Park Geun-hye in 2016 and spurred Moon to an election win on a promise to rein in the well-connected chaebol.
Lee was convicted of bribery and released in February after a court reduced his prison sentence.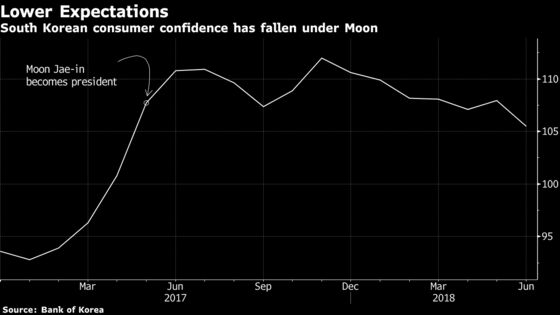 Moon's office says there has been no change to his economic policies and he has previously sought to leverage the chaebol's economic might. Moon also enlisted executives from Samsung Electronics Co. and Hyundai Motor Co. to travel with him to Washington last year to help convince Trump that free trade benefits both sides.
Meanwhile, Moon has reshuffled his economic team, naming Yoon Jong-won, a former Organisation for Economic Co-operation and Development economist, as a senior adviser. But by changing direction Moon also risks undermining the coalition of working poor, small business owners and young people who elected him.
Last week, more than 300 progressive professors signed a joint statement accusing Moon of trying to appease big business. "It turns out that Moon's government doesn't even have a blueprint for economic reform and has a fragile will," the professors wrote.
Lee, of BDA Partners, said Moon was stuck in a political "nutcracker" in which he was unlikely to please either side. The president's approval rating would likely fall further in the months ahead if he failed to secure economic gains, Lee said.
"Concession and compromise are unavoidable," he said. "Moon has to shake hands and sit down even with enemies -- in this case, conglomerates -- as the lackluster economic performance will lead him to face the first crisis around next year."