Why the Big Money Isn't Ready to Buy Turkish Bonds Just Yet
(Bloomberg) -- After months of runaway growth the Turkish economy is finally cooling -- but not enough to convince some of Europe's biggest money-managers to buy the nation's battered bonds.
The likes of Aberdeen Standard Investments and Allianz Global Investors say they plan to steer clear of Turkish-lira bonds until authorities commit to a much deeper adjustment. The nation's local-currency debt bruised investors with a 30 percent loss this year, the biggest after Argentina among emerging markets, according to the Bloomberg Barclays indexes.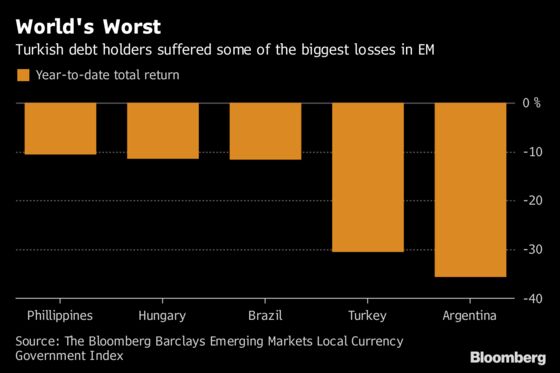 "Frankly, we need something that resembles a recession," said Edwin Gutierrez, the London-based head of emerging-market sovereign debt at Aberdeen Standard Investments, Europe's second-biggest fund manager, which manages $779 billion in assets.
Turkey's current-account deficit is one of the widest among peers, inflation is running at more than three times the central bank's target, and there's a risk the government won't unwind stimulus before municipal elections scheduled for March 2019. Indicators show a slowdown is underway as the highest borrowing costs in almost decade begin to rein in an economy that grew faster than China's in the first quarter of the year.
Industrial production data in May posted its biggest monthly drop in almost two years
The Markit Production Manufacturing Index held below 50 -- a reading which signals a contraction -- for a third month
Car sales tumbled by almost 40 percent in June
But investors worry that President Recep Tayyip Erdogan won't stomach a slowdown deep enough to help put the economy on a more sustainable footing.
Erdogan tightened his grip on policy as the country's first executive president and appointed his son-in-law as the economy czar. He also told Bloomberg in an interview in May that he expects the central bank will have to heed his calls for lower interest rates.
"The damage of that conversation is still present," said Daniel Moreno, the London-based head of global emerging-market debt at Mirabaud Asset Management Ltd, which oversees $8 billion in funds. "If we're going to invest in Turkish assets, we need clarity regards to policy making."
The central bank meets to set rates on July 24 and signs of a slowdown are prompting some bottom-fishing. Ten-year bonds surged for a second day on Monday, driving yields down to the lowest in three weeks. The rate has fallen more than 200 basis points since hitting a record earlier this month. The lira gained for a second day to a two-week high of 4.7495 against the dollar.
Shahzad Hasan, an emerging-market debt manager at Allianz in London, which oversees $594 billion in assets, isn't convinced it's time to buy.
"I think at this stage I will still be avoiding Turkey," he said. "Negative factors are still very much in place."