U.K. Says EU Must Help on Brexit to Avoid 'No Deal by Accident'
(Bloomberg) -- U.K. Foreign Secretary Jeremy Hunt is heading to Berlin on Monday to warn that the EU needs to do its part to avoid the chaotic scenario of Britain leaving without a divorce deal.
"Our European partners must show much more flexibility and creativity in negotiations if we are to avoid a 'no deal by accident' scenario," he said in a statement.
The remarks came a day after Britain's new chief Brexit negotiator said the government must step up planning for the possibility that talks with the European Union collapse.
"Any responsible government must make sure we have planning in place in case of a no-deal outcome," said Dominic Raab, who, like Hunt, was appointed to his post this month after his predecessor resigned in protest. Speaking on the "Andrew Marr Show" Sunday on BBC television, he said "we want the best deal possible."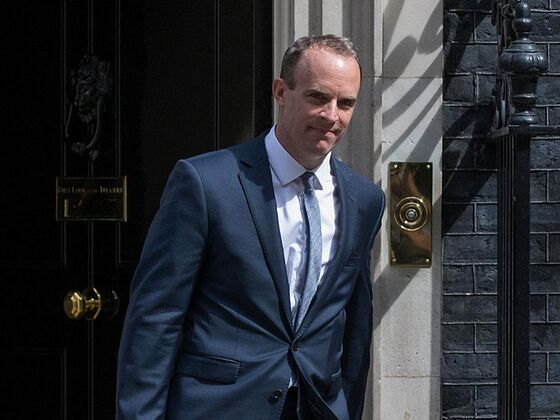 In comments that will please hardline Brexit supporters, Raab said that Britons needn't worry about the prospect of no deal emerging, when asked about how that might strand imports at borders, create the need to stockpile food, prevent airplanes from landing, or negate residency rights for Britons abroad or foreigners living in the U.K.
While he expects to reach an accord, planning is underway in "every aspect" to make sure the country can cope if he doesn't, Raab said. Hardliners are pushing for more no deal preparations so the U.K. can credibly threaten to walk away from talks, a prospect that worries U.K. businesses.
The remarks follow an interview with the Sunday Telegraph in which Raab said that the U.K. would refuse to pay the 39-billion pound ($51 billion) divorce bill with the EU if the bloc fails to agree on a trade deal. Brexit is dividing the country and Prime Minister Theresa May's Conservative Party, which is split between those who want a clean break with the EU and those who want to maintain closer ties.
With Parliament heading into its summer recess this week, May and her cabinet are heading to the northeast of England for meetings. The government will confirm increased investment in the regional rail line and transfer more power to local government in the region, her office said in a statement.
'Absolutely Catastrophic'
Dominic Grieve, a Conservative member of Parliament, said on Sky News's "Sophy Ridge on Sunday" that some members of his party "actively are seeking" to leave the bloc without a new trade arrangement.
"No deal would be absolutely catastrophic," Grieve said. "If the government thinks no deal is possible, it might take emergency measures, but let's be realistic -- we will be in a state of emergency."
The tension is also affecting the opposition Labour Party. John McDonnell, Labour's spokesman on the economy, equivocated on whether he would support a second Brexit referendum and argued that the main contribution a Labour government could make would be to "change the whole atmosphere of the negotiations." Speaking on Sky News, he said he'd like to see a general election soon, though he expects the government to cling to office for a while yet.
A poll published July 21 showed that the number of voters who oppose May's draft plan for a future trading arrangement vastly exceeds those who support it, 43 percent to 12 percent. Voters are also prepared to back new political parties -- either a right-wing group supporting Brexit or a centrist force opposed to leaving the EU.
Raab became Brexit secretary on July 9 after David Davis resigned the post in protest May's divorce blueprint. Raab said he's going back to Brussels for more negotiations on Thursday.
The U.K. shouldn't make further concessions to the EU, according to Conservative politician Owen Paterson. He said on Sky that the current plan already prevents Britain from leaving in "a clean way" and that concerns about no deal are overblown. "We should be preparing for trade on World Trade Organization terms," Paterson said. "I just don't see how it could be such a disaster."
John Major, the former Conservative prime minister and elder statesman of the party, summed up the predicament.
"There are a considerable number of Conservative MPs who are, on the subject of Europe, irreconcilable," he said on the BBC. "The danger at the moment is that they will frustrate every move the government makes and that, by accident, we will crash out without a deal."