Brazil's Firebrand Candidate Gets Party Endorsement for Top Job
(Bloomberg) -- Jair Bolsonaro, a former Army captain who is running on a law and order platform ahead of Brazil's presidential race, secured his party's nomination while struggling to find a running mate.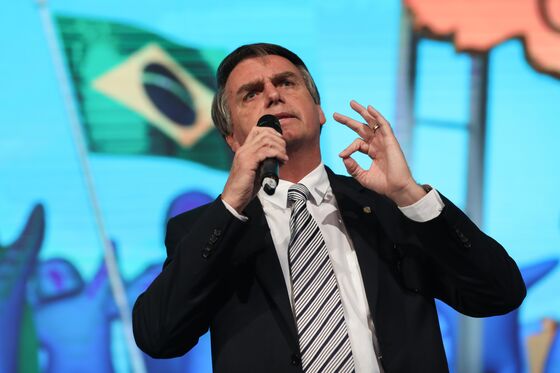 The Social Liberal Party, or PSL, on Sunday endorsed the right-wing contender at its national convention in Rio de Janeiro, the state Bolsonaro has represented in Congress for almost three decades. Still, Bolsonaro portrays himself an outsider, and leads opinion polls that exclude former President Luiz Inacio Lula da Silva, who is in jail and will probably be barred from running.
In the most uncertain election since Brazil's return to democracy in 1985, Bolsonaro isn't alone in his stumbles to build support. What's unique is that, in spite of those challenges, he has polled ahead of the pack for months largely on promises to tackle corruption and a surge in violent crime. He readily admits ignorance on economics, but indications that he could fully delegate such policy making to his pick for finance minister have contained market and business concerns.
On Sunday, Bolsonaro acknowledged that he doesn't have "a big party," and trails in funding and television advertising.
"I have something that others don't have: the support of the Brazilian people," he said. "We want to liberalize our economy, privatizing and maybe extinguishing some of the state companies."
In an event with appeals to religion and nationalism -- Bolsonaro's motto is "Brazil above everything and God above everyone" -- no running mate was announced, underscoring difficulty that his campaign is having to garner support from other parties. Among those speaking at the event were possible vice-presidential candidates including Senator Magno Malta, army General Augusto Heleno and lawyer Janaina Paschoal.
Bolsonaro's party is small and has only a few seconds of free TV advertising time. On the other hand, he boasts by far the biggest social media following of any candidate, and is received at airports nationwide by throngs of well-wishers.
His groundswell of support includes those who dismiss his polemical statements about women, minorities, and LGBT people as misunderstood sarcasm. Others find his rejection of political correctness refreshing, as well as a sign that he's not part of the establishment. Meantime, the prosecutor-general has filed charges against him for allegedly making racist and discriminatory statements.
Bolsonaro's current voter backing should be enough to get him past the first round in October, and his challenge will be boosting support by enough to win the runoff, according to Rafael Cortez, political analyst at Tendencias Consultoria. Attacks by local media and traditional politicians have thus far only helped him, Cortez added.
"He uses such criticism as fuel for his project, which shows he's unlikely to change the tone of his campaign," Cortez said. "Among the electorate there's a sense of insecurity, and criticism of political representation and changing values. That could make his candidacy competitive."