Trump Tries to Change the Subject as Russia Fallout Rattles GOP
(Bloomberg) -- President Donald Trump is changing the subject -- but it's not clear how easily Republicans in Congress will be able to move on.
After days of backlash over his summit with Russian President Vladimir Putin, Trump on Friday sought refuge in the populism that won him office. He threatened China with more tariffs, accused the European Union of currency manipulation and bashed the Federal Reserve for raising interest rates.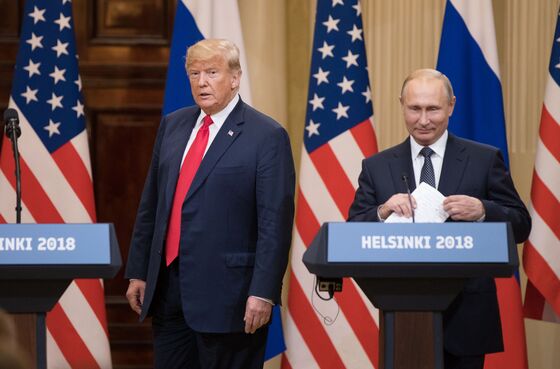 Republican lawmakers who've largely stood by Trump despite his serial self-made controversies and conflicts were pushed to the breaking point this week by his seeming embrace of Putin and his casting doubt on American intelligence agencies. But it's a contained fury -- so far -- without evidence that Trump's support from the Republican Party's core voters is slipping.
"The base has gone all-in on Trump the man, that the policies are secondary, even when he clearly demonstrates he is not the strong, tough talker," said Doug Heye, a former Republican National Committee spokesman and GOP House aide who has been a Trump critic. "But, if we see a cratering of Trump's numbers, especially as we are now well beyond most primaries, and the drumbeat becomes again about a Blue Wave, that could lead some — though maybe not a lot — of Republicans to act."
New voices of dissent are emerging. Republican Representative Will Hurd of Texas, a former CIA officer, wrote an opinion article in the New York Times saying Trump is being manipulated by Russian intelligence.
"By playing into Vladimir Putin's hands, the leader of the free world actively participated in a Russian disinformation campaign that legitimized Russian denial and weakened the credibility of the United States to both our friends and foes abroad,'' Hurd, who represents a swing district, wrote.
Serious criticism of Trump from within the GOP to date had mostly come from lawmakers who have decided not to run for re-election -- particularly Senators Bob Corker of Tennessee and Jeff Flake of Arizona -- and from Senator John McCain, who is battling brain cancer.
This time, the Senate unanimously passed what effectively amounted to a rare rebuke of the president, though cast as a statement of principle. The resolution, approved 98-0 on Thursday, challenged Trump for considering Putin's request to question U.S. officials, including former U.S. Ambassador to Russia Michael McFaul. The Senate called on the U.S. to refuse to make any officials available for interrogation by Putin's government.
By Friday morning, Trump was trying to turn attention elsewhere. He fired another warning shot in the trade dispute with China by saying he's "ready" to impose tariffs on $500 billion in Chinese imports -- a rallying point for his voters -- while also accusing China and the European Union of manipulating their currencies and launching a new broadside against the Federal Reserve for raising interest rates.
The pivot reprises a Trump pattern of responding to political pressure by shifting attention to populist causes that rev up his most loyal followers, though White House counselor Kellyanne Conway said the president wasn't being opportunistic.
"I just reject the premise that the president changes the subject to court the base in times of controversy," Conway said. Trump's actions reflect issues on his mind and the populist issues he raises "have positive implications for broad swaths of Americans."
As the backlash grew against Trump's tepid response last August to attacks by white supremacists in Charlottesville, Virginia, Trump held a rally in Arizona to announce a pardon for former Maricopa County Sheriff Joe Arpaio, a hero of anti-immigration advocates. Arpaio, now a candidate for the U.S. Senate, had been convicted of federal misdemeanor criminal contempt for defying a court order to stop traffic patrols targeting immigrants.
In October, with his legislative agenda flagging in Congress and criticism increasing of his handling of Hurricane Maria in Puerto Rico, Trump turned to the issue of NFL players protesting during the National Anthem. (Trump revisited the anthem debate in a tweet on Friday night.)
While many Republicans in both chambers issued statements expressing disappointment in Trump's Helsinki press conference, there's little appetite for any kind of legislative sanction or censure of the president just months before November's midterm elections.
In the House, many GOP members represent narrowly-drawn red districts where polls show large numbers of their constituents support the president and have grown increasingly suspicious of Special Counsel Robert Mueller's investigation after an active campaign by Trump and his surrogates to discredit it.
Both parties are still trying to sift out the potential impact on the November midterm elections. The uproar over Trump's summit and policy toward Russia could motivate Democratic and swing voters to turn against Republican candidates. But the party hasn't used it a major point of attack on Republican candidates in the Democrat-held red states and districts that are pivotal this fall.
Though the issue riles up the liberal base, influential Democratic operatives are urging candidates in more conservative parts of the country to de-emphasize Russian meddling in favor of economic issues, which they believe are the key to winning undecided voters.
"It's unlikely you see it in many ads around the country," said Josh Schwerin, a spokesman for Priorities USA, a Democratic super-PAC with a $75 million budget for the 2018 election. "What Democratic candidates are, and should continue, talking about are the issues that impact voters' lives directly. This means issues like health care, education, immigration and the economy."
Many Republicans this week were trying to find nuanced ways to address the latest Trump turmoil. Many stated their own support for the intelligence community's findings or backing of sanctions, while leaving out direct criticism of the president. That will probably protect them politically, said David Jolly, who served as a GOP representative in Florida from 2014 to 2017.
"I think they will default to supporting our own intelligence community without condemning the president, and that will find safe ground with Republicans," said Jolly.
"We're wrestling with whether this is a turning point," Jolly added. "And it's hard to judge that in real time. You can make the case that this is a turning point."