Mnuchin Says President Trump Fully Supports Fed Independence
(Bloomberg) -- U.S. President Donald Trump fully supports Federal Reserve independence and isn't trying to interfere in foreign-exchange markets, Treasury Secretary Steven Mnuchin said Saturday.
Mnuchin tried to assuage investor concern a day after Trump said a stronger dollar and rising U.S. interest rates were undermining America's competitive advantage. The secretary was speaking to reporters at the Group of 20 nations summit in Buenos Aires.
"I can assure you -- because I've spoken to the president -- that his intention is not in any way to put pressure on the Fed," Mnuchin said. While he said Trump's comments weren't a mistake, the secretary refrained from commenting on interest rates, saying "it would be inappropriate."
Trump was a real-estate businessman and, as such, closely follows interest rates, Mnuchin said. The secretary added that the administration continues to have "enormous" confidence in Fed Chairman Jerome Powell, who Trump appointed to succeed Janet Yellen. "I want to emphasize the administration completely supports the Fed independence."
See what economists and analysts are saying about Trump's Fed comments
Trump upended the longstanding economic policy playbook by criticizing the dollar's strength and the Fed's monetary tightening. The U.S. central bank has raised interest rates five times since Trump took office in January 2017, with two of those coming this year under Powell. The dollar has appreciated amid the tightening and a strengthening U.S. economy, which threatens to exacerbate the country's trade deficit.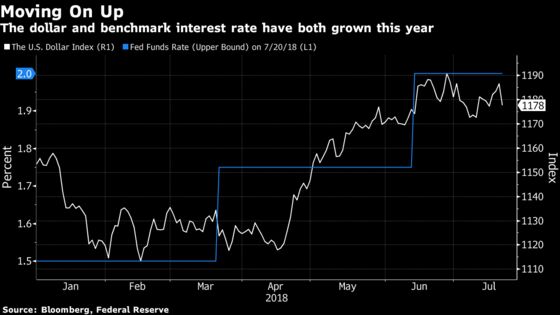 The question is whether Trump's comments mark the beginning of a new era of greater U.S. intervention in markets, one in which the president and members of his cabinet feel free to weigh in on economic issues that were traditionally seen as outside the political domain. Yields on Treasuries climbed the most since May following the president's remarks, and the dollar weakened the most since March.
But Mnuchin indicated Saturday there has been no shift in U.S. policy.
"This is not in any way the president trying to intervene in the currency markets whatsoever," according to Mnuchin.
The secretary also reiterated the traditional strong-dollar policy mantra: In "the longer term, a strong dollar is both in the United States' interest and is also a result of the United States having an extraordinary economy, both in terms of growth and investment where people want to hold dollar assets."
"Where the dollar is in the short term is not a concern of mine, it's established by the market," he added.
The secretary noted trade will be a major topic of discussion with his counterparts in Buenos Aires this weekend, as the U.S. puts pressure on both allies and adversaries to reduce barriers to American exports. After imposing steel and aluminum tariffs on most G-20 countries, the U.S. is now considering new duties on imports of automobiles and uranium. Trump has also slapped 25 percent tariffs on $34 billion of Chinese goods, sparking retaliation.
Mnuchin says he is closely monitoring the impact of retaliatory tariffs on the U.S. economy, though he doesn't expect them to undermine growth.
"On a micro-basis, there are certain impacts," he added.