U.S. Senators Seek to Punish Turkey Over Jailed Americans
(Bloomberg) -- Prominent U.S. senators are pushing legislation to restrict Turkey's access to international loans until it releases a jailed pastor and other American citizens, but may have an uphill fight convincing other nations to go along with the plans.
The bipartisan group of lawmakers on Thursday introduced a bill to curb assistance to Turkey from the International Financial Corporation and the European Bank for Reconstruction and Development, whose combined commitment to the country exceeds $10 billion. The senators, including Republicans Bob Corker and James Lankford as well as Democrat Bob Menendez, called on Turkey to end what they called the "arbitrary" detention of Americans.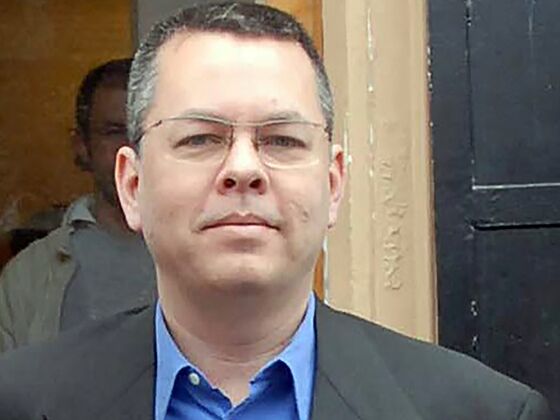 The U.S. move comes after a Turkish court this week refused to free American clergyman Andrew Brunson, who has spent nearly two years in jail on charges that he had ties to separatist Kurdish militants designated as terrorists by Turkey. President Donald Trump called the court's decision, the latest event to fan tensions between the two countries, a "total disgrace."
If successful, the bill could put at risk financing of key Turkish infrastructure projects. Yet the U.S. doesn't have majority voting rights at either the IFC or the EBRD, and would need to convince other shareholders to act jointly with Washington.
And the senators might not be able to rely on the backing of their government. A senior American official, who asked not to be named, said the U.S.'s objective is not to sanction the Turkish government but rather to get the bilateral relationship back on track.
There is no indication that other EBRD shareholders would be willing to stop financing projects in Turkey in line with the proposed U.S. bill, according to a person familiar with the matter, who declined to be named citing privacy considerations. The bank issued a statement later on Friday saying it was considering a loan of up to $30 million for a transport project in Turkey's industrial city of Kocaeli.
The EBRD declined to comment on the bill. An emailed request for comment from the IFC and a phone call to one of its spokespeople weren't answered.
Brunson has denied the charges he faces during his trial, dismissing the evidence as hearsay. Turkey-based U.S. officials, meanwhile, have repeatedly warned that controversial arrests of Americans in Turkey might damage the two countries' relationship beyond repair.
The pastor's detention has added to a long list of issues straining ties between the NATO allies. Turkey has been demanding that the U.S. extradite Fethullah Gulen, a cleric living in Pennsylvania who Turkey says masterminded a failed 2016 coup.
The U.S., in turn, has threatened consequences if Turkey doesn't release Americans imprisoned in the government's post-coup crackdown, who also include a NASA scientist. Potential U.S. sanctions over Turkey's purchase of Russian S-400 missile defense system and a fine on state-run lender Turkiye Halk Bankasi AS for violating the U.S. embargo on Iran have also hampered ties.
The IFC, an affiliate of the World Bank Group, has a committed portfolio of $2.6 billion in Turkey with syndicated loans accounting for half of that amount. The EBRD's current portfolio in Turkey is worth 7.3 billion euros ($8.5 billion) with around a sixth of that in energy projects. Under the proposed U.S. legislation, energy projects may get a waiver if the U.S. Treasury establishes that those projects are key to reducing Turkey's oil and gas dependence on Russia and Iran.
At the EBRD, the U.S. is the single largest shareholder with about 10 percent of voting rights, with 66 other countries, the European Union and European Investment Bank also represented. At the IFC, it holds just over 20 percent of total voting power.
The lira erased losses after Bloomberg reported that the U.S. is said to lack support at the EBRD, and was trading 0.4 percent higher at 4.7910 per dollar at 3:02 p.m. in Istanbul, the fifth-best performing currency among 24 emerging-market peers.