Trump Feeds Summit Uproar With Plans for Another Putin Meeting
(Bloomberg) -- Donald Trump intensified the uproar over his meeting with Russian leader Vladimir Putin by extending an invitation for a second summit as worries about what the two leaders discussed in Helsinki this week are rising.
Details of what the leaders talked about in a one-on-one session that lasted more than two hours have been trickling out from Moscow while White House efforts to clarify Trump's stance have been slow, vague and at times conflicting. The uncertain U.S. response to a Putin proposal for Russians to pose questions for a former American ambassador triggered a rare, unanimous rebuke from the Senate on Thursday.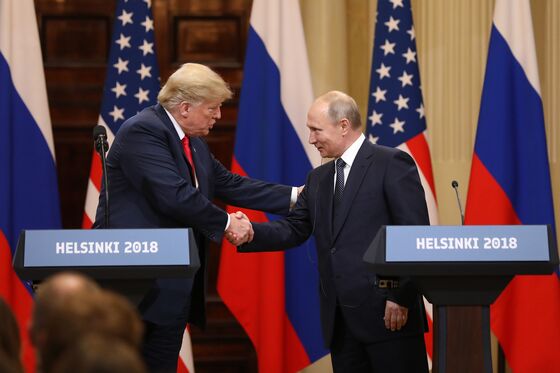 The president sought to stem the bipartisan backlash during an interview with CNBC that aired Friday, saying that if his attempts to cut a deal that would improve relations with Putin don't work, "I'll be the worst enemy he's ever had."
The invitation to Putin for a second meeting even surprised Trump's own national intelligence director, Dan Coats, who said Thursday "I don't know" what happened between the leaders in Helsinki. He was caught off guard at the Aspen Security Forum in Colorado when news broke of the new invitation.
"Say that again." Coats responded, when NBC's Andrea Mitchell told him on stage that Trump had invited Putin to Washington for a fall visit. "O.K.," he continued, "that's going to be special."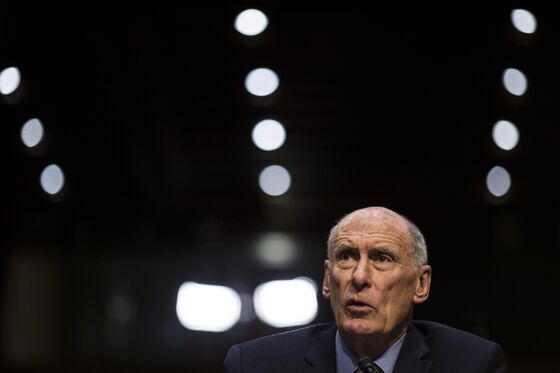 The drama unfolded as Trump jarred financial markets by issuing a broadside against the Federal Reserve for raising interest rates, breaking with two decades of White House tradition of avoiding comment on monetary policy out of respect for the independence of the U.S. central bank.
Yet another revelation from Moscow on the Helsinki talks rattled Washington. Putin told Russian diplomats in closed-door speech Thursday that he proposed a referendum to resolve the conflict in eastern Ukraine, according to two people present. Trump didn't immediately reject it and instead asked Putin to keep the plan secret so he could consider it, according to the two people. The White House had no immediate comment on the disclosure.
Such a referendum would alarm Ukrainian officials given Russia's 2014 annexation of Crimea, and would be a hard sell for Europeans, who remain committed to a 2015 European-brokered truce deal for the Donbas region, parts of which are controlled by Russian-backed separatists.
"They're basically letting Russia now shape the narrative of what came out of Helsinki," said Steven Pifer, a senior fellow and arms control expert at the Brookings Institution in Washington and a retired foreign service officer. "People are assuming the agreements that were reached were not in the U.S. interest."
Pifer, a 25-year foreign service veteran and former U.S. ambassador to Ukraine, said American officials typically provide an extensive account of a presidential summit to reporters within hours, a practice that the Trump team didn't follow after Helsinki.
"On the Russian side, several serious proposals were made, some of which were announced by" Putin at his news conference with Trump, Anatoly Antonov, Russia's ambassador to the U.S., said Friday at the Valdai discussion club in Moscow. Russian and U.S. leaders should meet regularly to maintain dialogue and it may be time to revive the 2+2 format of talks between top foreign and defense officials from the two countries, he said.
Democrats seized on the new invitation to Putin to fan doubts about Trump's diplomacy.
"Until we know what happened at that two hour meeting in Helsinki, the president should have no more one-on-one interactions with Putin. In the United States, in Russia, or anywhere else," Senate Democratic Leader Chuck Schumer of New York said in a statement.
Jim Goldgeier, a visiting senior fellow at the Council on Foreign Relations, said the summit in Helsinki shows the danger of another meeting. "Is Trump going to get himself prepared?" he said. "He can't just keep winging it at these meetings."
National Security Adviser John Bolton, Secretary of State Mike Pompeo and top White House aides "are in the same situation the rest of us are," Goldgeier said of efforts to understand what Trump signaled to Putin in their meeting.
"Even if he had come out and briefed them and said, 'This is what was said,' they have no way of knowing whether that's true or not, because who can ever know," he added. "So they're in a tough position. Meanwhile you have all this chatter coming out of Russia."
White House officials, recognizing a political backlash in their own Republican Party, struggled on Thursday to get in front of another controversy.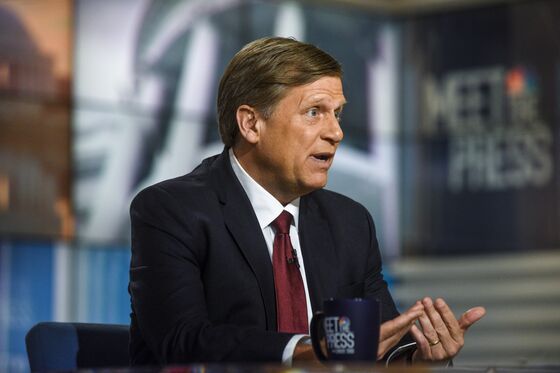 White House Press Secretary Sarah Huckabee Sanders said on Wednesday that Trump was going to meet with his team about an idea Putin raised that could have allowed Russia to question U.S. officials including Michael McFaul, a former American ambassador to Moscow under President Barack Obama.
Putin had offered in exchange to allow U.S. Special Counsel Robert Mueller to send members of his team to watch Russian authorities question of 12 Russian intelligence agents indicted by a U.S. grand jury last week in connection with hacking Democratic Party email accounts and disseminating those messages before the 2016 presidential election.
Allowing the interrogation of a former American ambassador would be an unprecedented breach in protections traditionally provided to the nation's diplomats.
Senate Republican Leader Mitch McConnell of Kentucky responded with a rare decision to permit a vote on a resolution written by Schumer undercutting the president. The resolution calls on the U.S. to refuse to make any officials available for interrogation by Putin's government. Though the measure isn't legally binding, it is a clear rebuke to Trump.
The White House waited until minutes before the scheduled Senate vote to refuse the Russian offer.
"It is a proposal that was made in sincerity by President Putin, but President Trump disagrees with it," Sanders said in a statement.
Her words didn't sway senators. The resolution passed 98-0.