Trump's Wild Week Leaves Aides, Allies on Edge
Donald Trump's week has been one for the history books.
From the U.S. president's highly criticized performance in Helsinki on Monday to his dizzying to-ing and fro-ing on whether he believed Russia meddled in or is targeting U.S. elections, to fresh outrage over an invitation to Vladimir Putin for a second summit in Washington, Trump's actions have driven what could prove to have been one of the most pivotal weeks in relations between Washington and Moscow in a generation.
Add in Trump's broadside against the Federal Reserve for raising interest rates — he broke with two decades of White House tradition aimed at maintaining central bank independence — and his escalating dispute with European allies over his planned auto tariffs, and there's a strong case that this also was one of the most tumultuous weeks in Trump's unpredictable presidency.
The uncertain U.S. response to a Putin proposal for Russian officials to interrogate a former American ambassador triggered a rare, unanimous rebuke from the Republican-controlled Senate yesterday. 
As details of what the leaders talked about in a one-on-one session that lasted more than two hours have started trickling out of Moscow, it's become clear that even Trump's closest advisers are in the dark about what was discussed and what Trump plans next.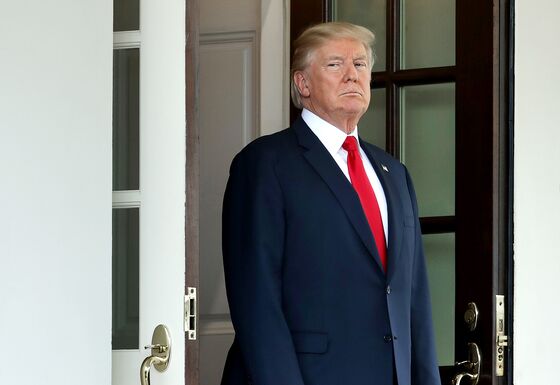 Just in: Trump told CNBC in an interview airing this morning that he's "ready to go" on tariffs on $500 billion in Chinese goods. 
Putin's Ukraine offer | Upping the Helsinki summit intrigue, Putin told Russian diplomats he proposed the idea of holding a referendum in separatist-held areas of eastern Ukraine to help resolve the conflict there, Ilya Arkhipov exclusively reports. But Putin said he agreed not to disclose the plan publicly to give the U.S. president time to consider it, according to two people who attended a closed-door speech by the Kremlin leader yesterday.
Pressure from all sides | Companies and governments from Europe to Asia are warning Trump that the tariffs he's considering on car imports would hurt the U.S. economy, disrupt the global auto industry, and widen the rift between America and its closest allies. Commerce Secretary Wilbur Ross insisted at a hearing in Washington yesterday that the administration must still make up its mind whether to proceed with the levies.
Brexit break | For U.K. Prime Minister Theresa May, next week's start to the summer break can't come fast enough as she fights to keep her chief whip, alleged to have used tricks to save her from a loss in Parliament, and braces for a harsh assessment of her Brexit plan in Brussels. The European Union's chief negotiator, Michel Barnier, hasn't wanted to crush her latest proposal but is likely to make clear she needs to cede more ground.
Modi confidence test | Indian Prime Minister Narendra Modi will face a no-confidence vote later today after a raucous parliamentary debate, part of a broader push by his rivals to build momentum ahead of a general election next year. Although Modi's coalition is expected to easily defeat the motion, the move highlights his party's slump in opinion polls and the struggles of some of his job-boosting initiatives, such as Make in India.
The price of violence | Three months of deadly anti-government protests are hammering Nicaragua's economy, until recently one of Latin America's strongest, by cutting output by nearly 5 percent in May. Clashes between police and paramilitary forces backing President Daniel Ortega and his opponents have killed as many as 350 people, and with the four-term leader rejecting early elections, the violence shows no sign of letting up.
Italy's Finance Ministry rejected reports of a rift between Minister Giovanni Tria and the government's populist heavyweights after concern that he might be forced to step down riled markets.
Philippine President Rodrigo Duterte is expected to pitch a U.S.-style federal structure Monday to bridge the rich-poor gap, in a constitutional change that has raised fears he may extend his term past 2022 to oversee the transition.
And finally ... Will Barron Trump get to kick the soccer ball Putin gave his father around the South Lawn of the White House? It may depend on how much the government determines the ball is worth. U.S. law prohibits the president and his family from keeping gifts from foreign governments valued at more than $390. Should the ball's worth be deemed higher, Trump could buy it back at fair market value. That's what Hillary Clinton did with a gemstone-and-pearl necklace valued at $970 that she received as secretary of state in 2012 from Myanmar's then-opposition leader Aung San Suu Kyi.