Top Judge to Defy Polish Court Takeover in Germany Speech
(Bloomberg) -- Poland's top judge will defy the government's efforts to sideline her, using an official visit to Germany to denounce its attempts to tighten control over the judiciary.
Ignoring declarations from the ruling Law & Justice party that it considers her retired, First President Malgorzata Gersdorf will represent Poland's Supreme Court in Karlsruhe on Friday with a speech at a memorial for a German lawyer murdered by the Nazis.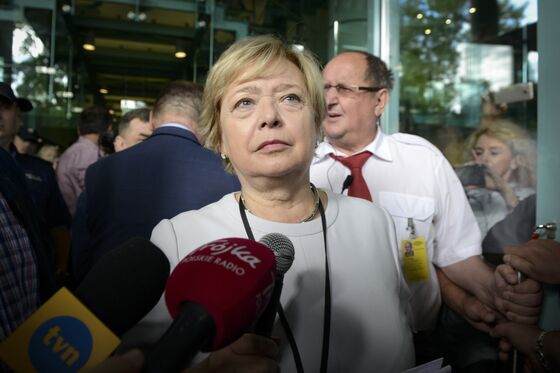 She'll appeal to the European Union to keep pressure on Poland to respect judicial independence and call on the bloc to strengthen its institutions "in the face of authoritarian and nationalist tendencies" making gains across the continent, according to an advance copy of her speech. Back in Warsaw, Law & Justice is set to complete its latest court overhaul the same day.
"The union's trademark -- respect for human and fundamental rights -- may soon dwindle," Gersdorf, 65, will say at a memorial for Reinhold Frank, according to a draft of her speech exclusively obtained by Bloomberg before the visit. "Let us not allow evil populist forces destroy the beautiful European idea."
Her remarks -- and the visit itself -- underscore the constitutional standoff between Gersdorf and the government. A revamp of the judicial system has angered judges and opposition parties, triggered street protests, and put the former communist country on a collision course with the EU. It may not make much difference, however, as Law & Justice has passed a dozen new judicial laws since 2015 to stay ahead of the European Commission, avoiding political sanctions and potential cuts to the funding it gets from Brussels.
Gersdorf's appearance has a symbolic role as well, as her appeal for the EU to defend its values will be made in Germany -- a country branded by Law & Justice and its illiberal, populist allies as the driving force for an ever-closer union.
Law & Justice says the EU has no say in its national issues and the country needs the judicial overhaul to return a sense of fairness to ordinary Poles. In a new bill that may be approved by the lower house on Friday, the party will lay the ground for a rapid "purge" of Supreme Court judges, according to Gersdorf.
In a rushed committee sitting that ran into dawn on Friday, Law & Justice lawmakers limited the time for proposing changes or asking questions about the draft law to as little as 30 seconds. The bill is set to make the politically appointed Judicial Council the last arbiter on judicial assignments and transfers between court branches, giving it more leverage over judges.
"The party machine can crown or destroy anyone and everyone" because it has created tools to impact "all judicial proceedings," Gersdorf will say in Karlsruhe. "The damage is regrettably extensive and there seems to be no hope for remedy in the near future."
She has vowed to stay on until her six-year term, enshrined in Poland's constitution, runs out in 2020. When she returned to work this week, ruling party officials threatened her with disciplinary proceedings for obstruction. While refraining from actively adjudicating, she's running the administrative side of the court amid the legislative blitz.
A Supreme Court takeover would complete the process Law & Justice initiated after its 2015 election victory when it packed the Constitutional Tribunal with appointees and refused to publish its rulings. This year, the government removed scores of heads of ordinary courts, packed the Judicial Council, a body that appoints judges, with its nominees and cut the retirement age for Supreme Court justices to force them out.
"What can a president of the Supreme Court do, a president whose constitutional term of office is facing an attempt to be unlawfully terminated?" Gersdorf will tell the audience. "All she's left with are words."