Pompeo Seeks to Shore Up UN Support for North Korean Sanctions
(Bloomberg) -- U.S. Secretary of State Michael Pompeo sought to shore up support among UN Security Council members for a North Korean sanctions regime that's showing signs of weakening, as hopes for a quick denuclearization agreement with Pyongyang fade.
Standing alongside U.S. Ambassador Nikki Haley in New York on Friday, Pompeo said the U.S. expects countries to honor their commitments to cut off North Korea's economy. He reiterated accusations that Kim Jong Un's regime is smuggling in refined petroleum products in order to get around the 500,000 barrel per year quota set by the United Nations Security Council.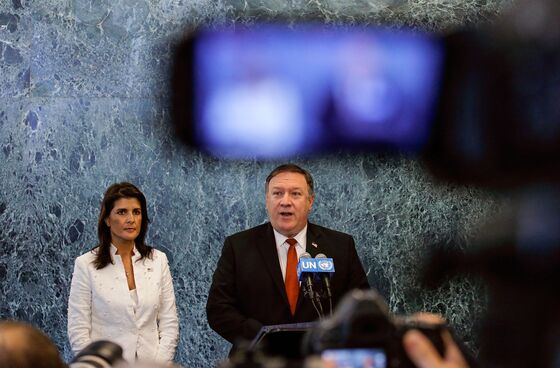 "When sanctions are not enforced, the prospects for successful denuclearization of North Korea are diminished," Pompeo said, adding that he and President Donald Trump remain "upbeat" about the possibility that North Korea will give up its nuclear arms.
Senior U.S. officials including Pompeo and Trump argue that their "maximum pressure" campaign is the key reason why Kim has said he's willing to give up his nuclear weapons, and have insisted that sanctions will remain in place until that process is complete. At the same time, they have said that China, North Korea's primary economic and diplomatic partner, has slipped in its enforcement of sanctions.
Pompeo said at least 89 illegal ship-to-ship transfers took place in the first five months of this year, making them the "most prominent means" for North Korea to violate sanctions, which are intended to deprive the isolated regime of hard currency.
Despite the U.S. accusations about smuggling, Russia and China have effectively blocked a U.S. proposal at the UN to halt all additional shipments of refined petroleum products. Like the U.S., the two Security Council members can exercise a veto on proposals they disagree with.
"The problem that we are encountering is that some of our friends have decided that they want to go around the rules," Haley said. "If we want to see success, we have to see a response from Chairman Kim and we have to continue to hold the line until that happens."
Critics of the Trump administration's North Korea strategy have long warned that the administration would have trouble maintaining the sanctions campaign the longer that negotiations with North Korea drag on. Earlier this year, Pompeo said he expected the bulk of North Korea's nuclear disarmament to take place in Trump's first term, but he has since shied away from offering such time lines and now says denuclearization could take some time.
Trump praised Kim last week even as denuclearization efforts appeared to be stalling, saying that "great progress" was being made in talks. But a trip this month by Pompeo to Pyongyang was denounced in North Korea's state-run media as "cancerous" and "gangster-like."
The apparent willingness by China and Russia to acquiesce to fuel sales to North Korea underscores just how difficult a task the U.S. faces in completely choking off Kim's regime. Neither Haley nor Pompeo said Friday whether they had made any progress in persuading China or Russia to help put an end to ship-to-ship transfers of fuel. Haley, nonetheless, called it a "very successful day."