Merkel to Fight Trump Over Auto Tariffs Endangering Trade
(Bloomberg) -- German Chancellor Angela Merkel said she'll keep lobbying President Donald Trump to head off tariffs on U.S. auto imports, which could escalate a trade war and threaten the global economy.
"On the issue of trade, we have a very serious situation in the world, I want to make that very clear," Merkel told reporters Friday in Berlin. Potential auto tariffs are "really a danger for the prosperity for many in the world" and would be viewed by Germany as a violation of global trade rules, likely provoking retaliation.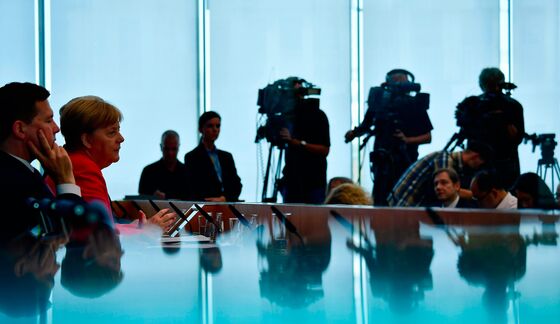 Tensions over trade are intensifying ahead of a meeting next week in Washington between Trump and European Commission President Jean-Claude Juncker. The EU is set to propose exploring the possibility of reducing car tariffs for several key trade partners, people with knowledge of the plans said earlier this week.
Juncker will make "proposals about how we could get into a discussion process" to avert the threat, Merkel said at her annual summer press conference. "We believe that we would be causing harm on both sides. That's the position Jean-Claude Juncker will take with him."
Merkel said Juncker will seek to explore two options: an offer to discuss the reduction of levies on a sectoral basis in accordance with WTO rules; and the possibility of broaching a limited free-trade accord. Should Juncker make no headway, the European Commission would prepare countermeasures to any U.S. actions, she said.
"That is by far the worse solution," Merkel said.
Germany's export success has been a frequent target of Trump's attacks. The U.S. president recently referred to Europe as a "foe" on trade, days after a contentious meeting with NATO allies including Germany. Levying tariffs on imported vehicles including Mercedes-Benz, BMW and Porsche models would represent a significant blow to Germany's trademark industry.
Merkel reiterated her assertion that Europe can no longer count on the U.S. for stability, even if trans-Atlantic relations remain critical, and that Europe needed to do more to protect global stability.
"What we assumed for many decades, that the U.S. is a power that preserves peace -- that is no longer a certain factor for the future," she said.
Asked whether she views Trump as trustworthy partner, Merkel said she won't give up on trans-Atlantic cooperation. "It's not as self-evident as we were used to in years past. That means we also have to carry out conflicts more often," she said.
Before embarking on a break for a few weeks without any public appointments, Merkel called for a multilateral approach, rebuking Trump's unilateralism.
"You can see that the values and the order that we've all become accustomed to are strongly under pressure," said Merkel. Multilateralism and the idea of working for solutions that benefit all sides "are not exactly the dominant principles operating today," she said. "But I'll continue to push for it."
Domestically, Merkel has weathered a clash over migration with her Bavarian sister party that threatened her almost 13-year hold on power. Support for her CDU/CSU alliance fell to 30.5 percent in an Allensbach poll published Tuesday, below the 32.9 percent result in September elections. Given the political crisis, "we can't really be that mystified by the result," the chancellor said.
Merkel repeatedly faced questions on her political staying power after surviving the coalition clash over migration, one of the biggest crises of her chancellorship. Asked whether she considered resigning after her Bavarian allies threatened to defy her and restrict migration unilaterally at the German border, Merkel responded: "No, no, no, no."
"In such a conflict, I need to concentrate on my own strength," she said.