U.S. Soldiers With HIV Say Trump's New Policy Will Force Them Out
(Bloomberg) -- A U.S. soldier asked a federal judge to bar the Trump administration from firing HIV-positive service members from the military under a new "Deploy or Get Out!" policy intended to improve readiness.
The policy, announced in February, directs the Pentagon to discharge service members who can't be deployed outside of the U.S. for more than 12 consecutive months "for any reason." It takes effect Oct. 1.
An earlier directive put in place at the height of the AIDS crisis prevents service members with HIV from deploying overseas, meaning the new policy "makes it effectively impossible for people living with HIV to serve," the soldier said Thursday in a filing seeking an injunction against the rule. There are about 1,200 soldiers with HIV, according to the complaint.
"Soldiers, sailors, fighter pilots and marines are seeing their promising careers cut short, their dreams of service shattered and their health jeopardized due to antiquated notions about HIV and the stigma that results," Scott Schoettes, the soldier's lawyer with Lambda Legal, said in a statement.
Defense Secretary Jim Mattis said in February that the directive will ensure fairness in deployment rates by preventing some service members from being deployed more than others, the Military Times reported then.
Jessica Maxwell, a spokeswoman for the Department of Defense, didn't immediately respond to a request for comment.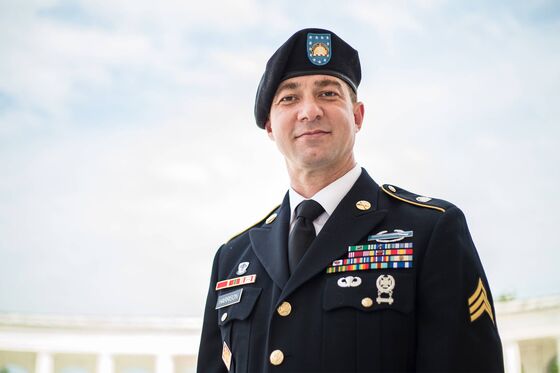 The suit in federal court in Alexandria, Virginia, was filed in May by Nicholas Harrison, a 41-year-old Oklahoman whose National Guard unit was deployed to Afghanistan in 2006 and Kuwait in 2011, according to the complaint. He was diagnosed with HIV in 2012, shortly after returning from Kuwait.
Under the new policy, HIV-positive service members are already being discharged and having their duties restricted, according to his suit.
"People living with HIV have served in this nation's armed services with distinction for decades," according to the filing. "For much of that time, their service has been unjustifiably restricted based on misconceptions regarding the consequences of an HIV diagnosis."
The soldier argues in his lawsuit that drugs developed in recent years allow HIV-positive people to live and work effectively for years without medical issues that get in the way of their duties.
"These medical advances should have resulted in an overhaul of military policies related to people living with HIV," Harrison said in the suit.
Harrison is joined in the case by OutServe-SLDN, a network of LGBT military personnel. The suit also seeks to block the policy that bars HIV-positive Americans from enlisting and prohibits them from obtaining officer status if they are diagnosed with HIV while already serving.
According to Harrison, that policy wrongfully prevented him from becoming a Judge Advocate General officer of the D.C. National Guard.