Trump Struggles to Explain Putin Posture as Zigzag Worries Aides
(Bloomberg) -- The White House struggled for a second straight day on Wednesday to explain President Donald Trump's posture on Russian election meddling, and some administration officials are concerned there may be no shaking public perception that Trump is too cozy with Vladimir Putin.
Trump's aides now view this as one of the worst moments of his presidency, one of the officials said, noting that Trump continues to resist acknowledging election interference because he believes that diminishes his victory.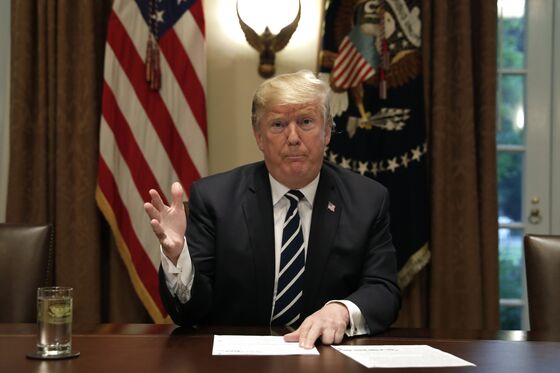 It was only three days ago that Trump stood next to Putin in Helsinki and questioned U.S. findings that the Kremlin meddled in the 2016 election. Since then Trump has issued a belated clarification, undercut the reversal with qualifiers, made new comments contradicting American intelligence and then sent his spokeswoman out to deny it happened.
"Oh, you mean there's a walk back of the walk back of the walk back of the walk back?" Senator Susan Collins, a Maine Republican, told reporters Wednesday. "This is dizzying."
Another Republican senator, Lisa Murkowski of Alaska, said she's not satisfied with Trump's comments and wants him to tell Putin to "stay away" from American elections.
"I didn't hear that," she told reporters. "And I didn't hear that in his walk-back. So I'm still waiting."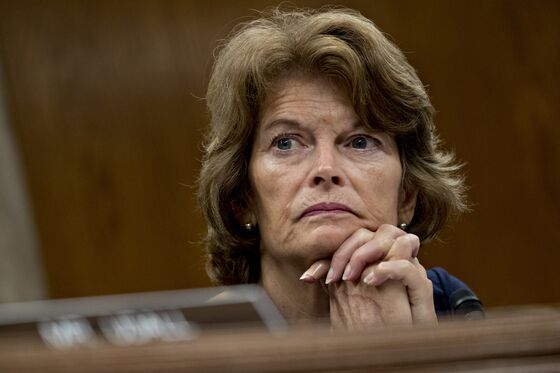 After Murkowski spoke, Trump said in an interview with CBS News that Putin "better not" interfere in U.S. elections. "I let him know we can't have this, we're not going to have it, and that's the way it's going to be," Trump said.
Republican lawmakers continued Wednesday to push back against Trump's comments at the Helsinki news conference. House Homeland Security Chairman Michael McCaul of Texas said Wednesday that he's "astounded at the inability" of Trump to condemn Russian interference, calling it "demoralizing" to the U.S. intelligence community.
But the president's loyal following among GOP voters has made elected officials wary of crossing him, especially in the run-up to midterm elections in November. Republican leaders have looked past his refusal to denounce white supremacist protesters and complained but taken no substantive action when he imposed tariffs on allies.
The strength of Trump's rank-and-file backing was underscored by a Reuters/Ipsos poll taken after the summit that found 71 percent of Republican voters approve of his handling of relations with Russia. Overall, a majority of Americans disapprove, the poll found.
Leading Republicans are resigned that they may never get a clear reversal from Trump.
Asked whether he was satisfied with the president's clean-up, John Thune of South Dakota, the Senate's third-ranking GOP leader, shrugged, "Well, I mean, I guess it's probably the best that we're going to be able to get, right?"
Trump deepened confusion in an exchange with reporters on Wednesday in which he appeared to say Russia isn't currently trying to target the U.S., diverging from repeated public warnings his own intelligence director has made.
After a reporter asked during a Cabinet meeting whether Russia was still targeting the U.S., Trump first tried to avoid answering by telling the assembled media "thank you," usually a sign that he won't take questions. But he then lowered his voice and responded, "No."
White House Press Secretary Sarah Huckabee Sanders later said the "no" meant that he didn't want to take questions.
Even so, the president continued with a lengthy response just seconds after answering in the negative and again answered, "No" when the question was repeated.
Sanders's explanation was met with skepticism inside the White House briefing room and beyond. "Do I believe that? No." Republican Senator Jeff Flake of Arizona said of Sanders' interpretation.
Director of National Intelligence Dan Coats issued a statement on Monday after the Helsinki news conference saying, "We have been clear in our assessments of Russian meddling in the 2016 election and their ongoing, pervasive efforts to undermine our democracy."
Sanders also muddied the message as she told reporters on Wednesday that Trump entertained a proposal from Putin to let Russian authorities pose questions for the former U.S. ambassador to Moscow, Michael McFaul, who served under President Barack Obama.
In exchange for the opportunity to have McFaul and a number of other Americans questioned, the Russian president offered to let Special Counsel Robert Mueller observe interrogations of 12 Russian intelligence agents indicted by a U.S. grand jury last week on charges that involve the hacking of Democratic Party email accounts.
Allowing the interrogation of a former American ambassador, who held diplomatic immunity while in Moscow, would be an unprecedented breach in protections traditionally provided to the nation's foreign service.
Sanders said "there was some conversation about" Putin's proposed exchange during Trump's summit with the Russian leader. In the press conference after the discussion, Trump described the idea of the deal as "an incredible offer" by the Russian leader.
FBI Director Christopher Wray, speaking at the Aspen Security Forum in Colorado on Wednesday evening, dismissed Putin's suggestions of cooperation.
The Kremlin has described security deals and other offers Trump made at the summit, but U.S. officials have declined to provide any details and skipped customary briefings for reporters. A one-on-one meeting between Trump and Putin included only interpreters and no other U.S. officials to make a record of the conversation.