Trade, Political Risks May Jolt Euro-Area Economy's Soft Landing
(Bloomberg) -- Euro-area growth appears to have peaked and the region could be up against threats including trade tensions, a disruptive Brexit and political shocks across the currency bloc, the International Monetary Fund warned.
In its annual assessment of the euro area, the Washington-based fund said the economy remains strong, but it's cooling, and an "array of global and domestic risks hangs over the outlook."
The latest of many warnings came as the European Unions prepares to retaliate if the U.S. decides to impose tariffs on cars. That would mark a further escalation of the tit-for-tat action that's seen U.S. slap levies on imports from the EU and China.
"Rising protectionism stands out as a major global concern," the IMF said. "As a tail risk, protectionist measures could trigger a full-blown trade war, seriously disrupting cross border commerce and damaging the recovery."
European Commission President Jean-Claude Juncker will meet President Donald Trump in Washington next week to explore the possibility of starting negotiations on reducing car tariffs for several key trade partners.
Beyond global factors, the IMF highlighted domestic risks such as policy inaction, political shocks and failure to tackle high public debt. It also cautioned that a lack of progress in Brexit negotiations "raises the risk of a disruptive exit."
Its warning on domestic risks could hit home in countries like Italy, where bonds slumped two months ago on concern about the new government's policies. Just this week, the Bank of Italy said the administration must be wary of investor uncertainty.
The IMF also released a separate report on the impact of the U.K.'s withdrawal from the EU. It found that that while Brexit would have a negative impact on the bloc's remaining 27 countries, long-term growth and employment losses in these nations would be less than for Britain.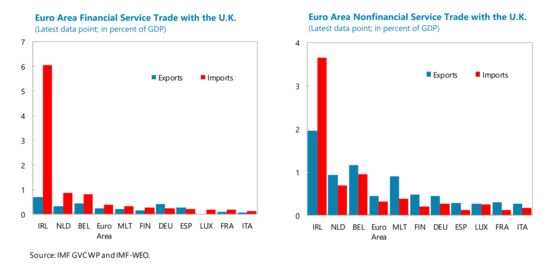 Gross domestic product and employment are estimated to fall at most by up to 1.5 percent and 0.7 percent in the long run in case of a so-called 'hard' Brexit, respectively, according to the report. A 'soft' Brexit outcome would mean a much less malign outcome.
But there are significant differences across various countries, with the more open economies such as the Netherlands, Ireland and Belgium being most exposed to shocks.