A Brazilian Presidential Front-Runner Is Struggling to Find a Running Mate
(Bloomberg) -- Former Brazil Army captain Jair Bolsonaro is struggling to find a running mate even as he sits firmly atop presidential polls.
More voters back Bolsonaro than all other candidates for October's election except ex-President Luiz Inacio Lula da Silva, who is in jail and likely to be barred from running. Yet, the deputy has already lost out on two vice presidential picks in less than a week. The deadline to establish the ticket is less than a month away.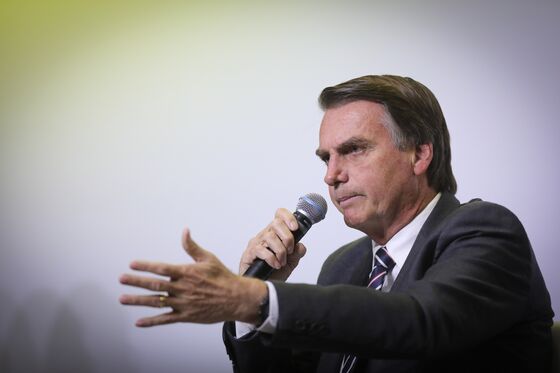 "He doesn't know how to negotiate," David Fleischer, professor emeritus at the University of Brasilia, said by phone. "He's very rigid, not like a traditional Brazilian politician who says, 'let's sit down and find a solution.' That's not his style."
The choice of vice president in Brazil is crucial to both accumulate free advertising time on television during the campaign and then govern in a political system that has more than 30 parties. Bolsonaro's PSL party is small and has only a few seconds of TV time, meaning he may need to bet on his sizable social media following for support if he doesn't secure a running mate from a larger party.
Bolsonaro said in May that his "dream vice-president" was Senator Magno Malta. That partnership would have provided a welcome boost to both his TV time and prospects with evangelical voters. Still, Malta told a group of pastors last weekend he will instead run for re-election.
Bolsonaro moved on, selecting General Augusto Heleno, who was the first leader of the United Nation's Haiti stabilization mission in 2004 then head of Brazil's military command in the Amazon. Heleno told local media on Wednesday that his party rejected an alliance, saying it wouldn't help efforts to elect federal lawmakers.
There is speculation that Bolsonaro could choose Janaina Paschoal, one of the lawyers who authored the request for former President Dilma Rousseff's impeachment. His support among women lags that of former Ceara state Governor Ciro Gomes, according to a Poder360 survey in June.
Responding to criticism of his stumbles in securing a running mate, Bolsonaro said on Twitter on Thursday that he wants to do things differently, and he's more concerned with attending to the Brazilian people than political parties. His vice-presidential candidate will "appear at the opportune time," a spokesperson said by phone. The PSL party holds its national convention on July 22.
Still, his uphill battle to attract a running mate at this stage is surprising for someone who's been leading the polls for some time, said Thiago de Aragao, director of strategy at political consultancy Arko Advice.
"None of the parties want to join his train, and not because of a lack of his effort," De Aragao said. "He's trying, but they are rejecting."