South Korean President's Support Falls After Wage Uproar
(Bloomberg) -- Support for South Korean President Moon Jae-in fell by the most since he took power last year, after a minimum-wage increase that drew criticism from employers and workers alike.
Moon's approval rating fell 6 percentage points over the past week to 61.7 percent, according to a Realmeter poll of 1,504 adults released Thursday. That's the biggest drop recorded by the firm since Moon assumed the presidency in May last year and the lowest level since January, when 60.8 percent approved of his performance.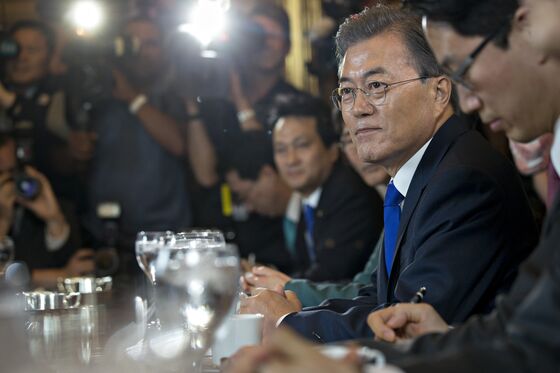 The decline comes amid an uproar over the local minimum wage board's decision to raise hourly base pay by 10.9 percent next year to 8,350 won ($7.37). While business owners complain the added costs could force some to close, the rate means Moon will probably fall short of his push to raise the rate 33 percent by 2020.
Some 42 percent described the planned minimum wage increase as too steep, according to a smaller group of 500 respondents surveyed. Another 40 percent said the rate was adequate.
The poll is the latest sign that South Korea's slowing economy is becoming a bigger concern for Moon after his dramatic rapprochement with North Korean leader Kim Jong Un drove his approval ratings to stratospheric levels. The left-leaning Moon was carried into office on a surge of discontent that had led to the impeachment of his conservative predecessor, Park Geun-hye.
Support for Moon's Democratic Party fell 3.8 percentage points to 41.8 percent, the fifth straight week of declines, the survey found. The opposition Liberty Korea Party rose 2.5 percentage points to 19.5 percent.
During a meeting with top aides Monday, Moon apologized for failing to raise wages at the pace he promised as part of his "income-driven" economic policy. "The government will do its best to accomplish the 10,000 per hour goal at the earliest date," Moon said, adding that the decision was based on an assessment of the country's economic strength.
All nine employer representatives on the 27-seat minimum wage commission boycotted the Saturday vote to approve the increase. Four members from the workers' side also withheld their votes.
South Korea on Wednesday trimmed its economic growth forecasts for this year, citing rising global trade tensions and a slump in facilities investment. Asia's fourth-largest economy is expected to grow 2.9 percent in 2018, versus an earlier forecast of 3 percent, the finance ministry said.