Meet the Pro-Brexit Labour Rebels Who Saved May and Could Again
(Bloomberg) -- The opposition Labour Party's attempt to keep all sides happy on Brexit ultimately saved U.K. Prime Minister Theresa May from a potentially catastrophic defeat this week. There's no sign of its tactics changing.
Pro-Brexit Labour lawmakers who ignored instructions and voted with the government on Tuesday night say party managers exerted no pressure on them to switch sides. Their votes helped block an amendment put forward by pro-EU rebels in May's Conservative Party that could have meant Britain staying in a customs union with the European Union after leaving the bloc.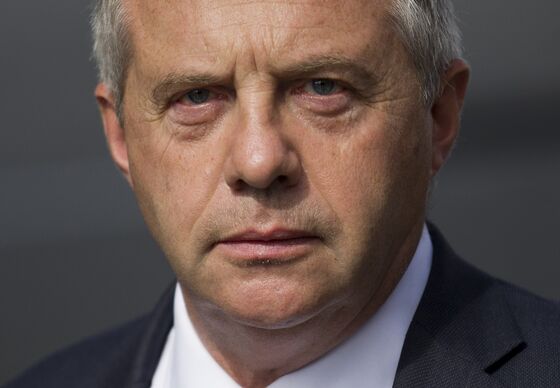 Labour rebels John Mann and Frank Field said the party leadership tolerates their position because it is looking beyond Brexit and wants to ensure it retains support from blue-collar workers who backed leaving the EU. The party has a majority of pro-EU lawmakers, but most of the districts it represents voted for Brexit in the 2016 referendum, meaning it has to strike a balance.
"There was zero pressure," said Mann, who was also joined by Kate Hoey and Graham Stringer in opposing the amendments. "If the Labour Party doesn't have any Brexit MPs it can't win the next election, that's a fact. The Tories would have a field day."
May won the crucial vote 307-301, meaning the government needed the support of Mann and his colleagues from across the floor.
That was despite all the efforts of the government whips, who warned the pro-EU Conservative rebels they risked collapsing May's administration if they voted against her orders, according to people familiar with the matter.
"Four Labour MPs save May's premiership in crunch vote," was the Tory-supporting Daily Telegraph's banner headline on Wednesday morning.
Hoey, who has described the EU as "an almost Stalinist kind of organization" and who campaigned alongside former U.K. Independence Party leader Nigel Farage before the referendum, angrily denied that she had voted to prop up May's troubled premiership.
"I wasn't supporting the government, I was in a lobby to oppose staying in the customs union and I'm very keen to make sure we have nothing to do with the customs union," she said. "It wasn't Labour Party policy to stay in the customs union, and it wasn't what people voted for. It's very simple."
Labour's strategy in last year's general election was to hedge its offer between the Leave and Remain sides. Not wanting to highlight divisions among its supporters, it said it accepted the result of the referendum and would "prioritize jobs and living standards" in talks with Brussels.
Allowing its anti-EU lawmakers to rebel is part of the same strategy.
"Our chief whip has always been concerned about where the party is after the European issue has been dealt with," Field said. "Two-thirds of Labour constituencies voted to leave, so we're very representative."
All four Labour rebels have been outspoken in their support for Brexit. Mann says he is simply fulfilling the democratic mandate of voters in his central England district, 68 percent of whom voted to leave. Field, for his part, has opposed the development of the EU as "a single European state" and raised concerns about the effects of immigration.
They also know that their views are close to the long-held euroskepticism of party leader Jeremy Corbyn, who repeatedly voted against pro-EU legislation under Labour prime ministers Tony Blair and Gordon Brown.
Corbyn's record as a rebel, voting 428 times against his own party when it was in power, also makes it hard for managers to appeal to loyalty to convince lawmakers to toe the official Labour line.
"We have our procedures for dealing with breaches of the whip," a spokesman for Corbyn told reporters in London. "It will be dealt with in the normal way."
They don't expect the experience to be arduous.