U.S. Judge Demands Update on Reuniting Migrant Kids With Parents
(Bloomberg) -- A federal judge wants an update Monday on government efforts to reunify children separated from their families at the U.S.-Mexico border, after he demanded more cooperation from the Trump administration.
In a ruling late Friday, Judge Dana Sabraw wrote that the U.S. Department of Health and Human Services "either doesn't understand the court's order, or is acting in defiance of the order." He set a detailed timeline to complete the reunifications by July 26 and called for a status conference at 9:30 a.m. with attorneys for the government and the American Civil Liberties Union.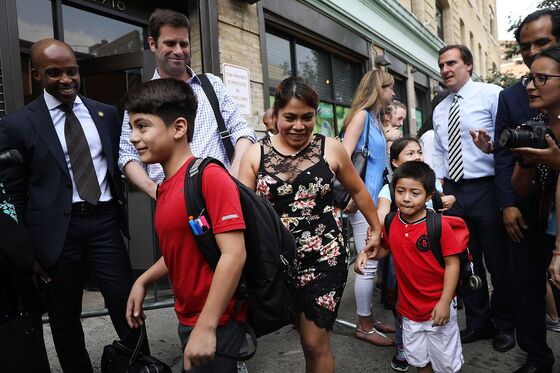 The Justice Department responded to Sabraw's criticism on Sunday, saying in a filing that the Trump administration's efforts at reunification of some 2,500 children separated from their parents were "committed" and "extraordinary." Still, the government didn't disclose whether any families were reunited over the weekend.
The DOJ filing also said HHS will continue to abbreviate its typical protocol for confirming guardianship to meet a July 19 deadline of parental verification for all separated children, guidelines that are set to otherwise prevent false parentage claims and human trafficking.
Sabraw had said a declaration provided by HHS in the case "casts doubt on what the court believed was a mutual understanding, and calls into question the court's previous statements that defendants are acting in good faith in their attempts to reunify."
Looking to meet the judge's deadline, the government has laid out a plan in which Immigration and Customs Enforcement will identify six to eight locations where as many as 200 children a day will be reunited with their parents. The focus now is on children ages 5 to 17, after the government reported last week that it had complied with an earlier order to first concentrate on kids under 5.
Catholic Charities of San Antonio spent the weekend on alert for families to arrive at its modern headquarters on a leafy street just north of downtown in the Texas city. ICE said to prepare for anywhere between 100 and 400 people to be brought to the building during the next two weeks ahead of Sabraw's deadline, said J. Antonio Fernandez, the group's president.
"We are experts in emergency disaster crisis and this is an emergency disaster crisis," Fernandez said.
Fernandez said he was told to expect a handful of families as early as Saturday morning, but no one came. He didn't hear from ICE again until Sunday afternoon, when an official in Washington called to say to expect two families in the coming hours, he said.
In the meantime, Catholic Charities staff and volunteers spent the weekend preparing for the families to arrive -- arranging snacks, clothing and other essentials in a meeting room. There, the families will get help from case workers and can call people they'll stay with in the U.S., as well as family back in Central America.
A steady stream of cars pulled up at the charity's building all weekend to drop off donations of clothing, shoes and food, and some parents brought their children. The charity bought additional items it knows the families will need, including shoelaces -- theirs were removed earlier, while in government custody -- and underwear.
The Department of Homeland Security declined to comment on any reunification activity that took place over the weekend, and HHS didn't immediately respond to a request for comment.
Sabraw, 60, was nominated to the federal bench by President George W. Bush and unanimously confirmed by the U.S. Senate in 2003, according to a Federal Bar Association profile. His parents met while his father was stationed in Japan during the Korean War as a U.S. Army soldier, and the judge's Japanese middle name -- Makoto, which means "truth" -- is in honor of his mother's family, the profile said.
His parents had trouble finding housing because of prejudice against the Japanese when they moved to U.S. in 1956, Sabraw told the San Diego Union-Tribune in a 2003 article.
"In light of that experience, I was raised with a great awareness of prejudice," Sabraw said in the story. "No doubt, there were times when I was growing up that I felt different, and hurtful things occurred because of my race."