Trump Turns to Putin After Shaking World Order
Donald Trump's disruption of the post-World War II international order could reach a tipping point today when the U.S. president sits down with Russian leader Vladimir Putin.
Trump's 90-minute one-on-one with Putin — with only their translators in attendance — follows a contentious meeting last week with NATO allies, which Trump punctuated by naming the European Union as a "foe" of the U.S.
A grand jury indictment Friday of 12 Russian intelligence officers for their alleged role in a scheme to hack Democratic email accounts has raised pressure on Trump to confront Putin over Kremlin meddling in the 2016 election.
Trump, who's expressed reluctance to hold his Russian counterpart to account, said yesterday he may ask Putin, himself a former KGB operative, to extradite the agents to the U.S. — something the Russian constitution bans. Foreign Minister Sergei Lavrov says Russia wants to open "frozen" communication channels.
The president's played down expectations for the meeting's outcome and blamed Special Counsel Robert Mueller's election-meddling investigation for poor relations with Moscow, rather than the Kremlin's own activities.
"Our relationship with Russia has NEVER been worse thanks to many years of U.S. foolishness and stupidity and now, the Rigged Witch Hunt!" he tweeted.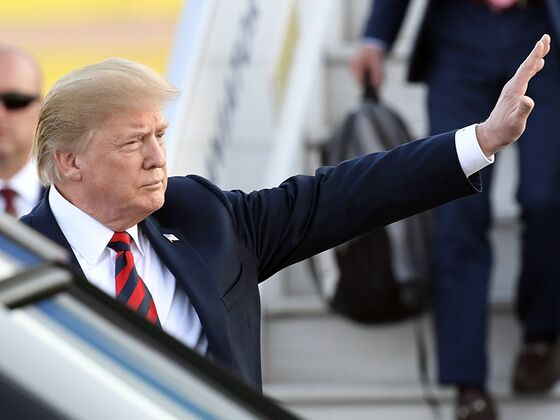 Brexit disunity | Having just about seen off the diplomatic havoc of Trump, Prime Minister Theresa May kicks off a new week with one of her former ministers corralling lawmakers to vote against her plan for leaving the European Union. All Westminster eyes will be on the customs bill votes later today to see if the rebels favoring a hard split with the bloc have the numbers to bring her down. May isn't budging in the meantime; she's taking her Brexit sales pitch to the Farnborough International Airshow.
America's foes | EU President Donald Tusk warned Trump that trade wars could turn into real-world conflict. Tusk and Chinese Premier Li Keqiang mounted a defense of multilateralism during a summit in Beijing, where both sides agreed to a joint statement for the first time since 2015 in a show of solidarity.
Cease-fire | A brittle calm was holding this morning along the Gaza Strip border after two Palestinian teenagers were killed and three Israelis wounded in a weekend of violence. Palestinians fired more than 100 rockets and mortars into Israel and the air force pummeled Hamas targets in its harshest assault on Gaza since the 2014 war.
Pumping more | OPEC has come under pressure from Trump to pump more before the U.S. midterm elections in November, and evidence is mounting that Saudi Arabia is heeding the call to keep the oil market amply supplied and rein in prices. As Sharon Cho and Serene Cheong exclusively report, the kingdom has offered extra crude oil volumes on top of its contractual supplies to some buyers in its most prized market : Asia.
Recovering the missing | U.S. and North Korean officials continued talks on returning the remains of American soldiers lost during the Korean war after Secretary of State Michael Pompeo said negotiators reached "firm commitments." The meeting yesterday was a hopeful sign following North Korea's failure to show up for the first session last week. While recovering the war dead would provide Trump a political victory, it would do little to advance the goal of dismantling the regime's nuclear weapons program.
A federal judge wants an update today on government efforts to reunify children separated from their families at the U.S.-Mexico border, after he demanded more cooperation from the Trump administration. 
And finally ... French people kissed and hugged and sang the the Marseillaise, the national anthem, in the streets of Paris after their young, racially diverse national soccer team, known as Les Bleus for their blue jerseys, won the World Cup for the first time in 20 years in Moscow. President Emmanuel Macron was beside himself, throwing his arms into the air, embracing the team players and kissing the solid gold trophy. Expect a massive turnout this afternoon for the champions parade down the Champs Elysees when at least for a day, France will be united.