Trump's Refusal to Condemn Putin on Election Meddling Sparks Outrage
(Bloomberg) -- Standing next to Vladimir Putin at a news conference on Monday in Helsinki, U.S. President Donald Trump offered a surprising analysis of his own government's allegations that Russia meddled in the 2016 elections: He's not sure he believes it.
Trump has said as much before. But three days after Special Counsel Robert Mueller indicted 12 Russian intelligence agents by name, detailing their involvement in a scheme to hack into email accounts controlled by the Democratic National Committee and Hillary Clinton's campaign, Trump indicated that he gives at least equal weight to the views of his closest intelligence aide, Dan Coats, and to Putin.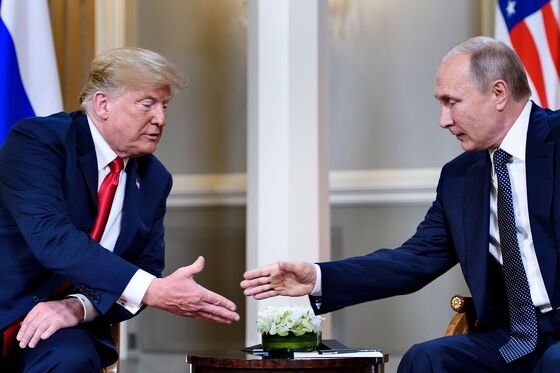 "My people came to me and some others, they said they think it's Russia," Trump said, as Putin looked on. "I have President Putin, he just said it's not Russia. I will say this, I don't see any reason why it would be. I have confidence in both parties."
The Russian leader proclaimed that yes, he wanted Donald Trump to win the 2016 election -- but no, Moscow didn't try to affect the outcome. Putin also dodged a question about whether the Kremlin possesses compromising information on Trump, a recurring assertion by the U.S. president's critics.
He had heard the rumors, Putin said with a smile. But many businessmen visit Russia, he said.
"Do you think that we try to collect compromising material on each and every single one of them?" Putin said, without answering the rhetorical question. "Well, it's difficult to imagine on a bigger scale of this. Please disregard these issues and don't think about this anymore again."
The sum was Trump -- at best caught up in personal grievances, and at worst contributing to speculation about a grander conspiracy -- delivering a performance that clearly pleased the Russian president. Putin has long sought to both reestablish Russian influence on the global stage and undermine confidence in Western institutions, and within the span of one news conference, the U.S. president gave him a lot to work with.
The president disparaged Mueller's investigation as a "disaster."
He suggested that because the Democratic National Committee had only turned over data from its servers to the FBI and not the actual machines, there were doubts about the provenance of the hacking.
He praised an offer from Putin to work together to investigate alleged election meddling as "interesting" and appeared to entertain the Russian president's request to allow Russian investigators onto U.S. soil, even though legal experts say it's a non-starter.
And he proclaimed that Putin had been "extremely strong and powerful" in his denials, drawing an implicit contrast with a U.S. intelligence and law enforcement apparatus that Trump has long distrusted.
The significance of Trump's performance was obvious in the opposite reaction it garnered in the Russian and American capitals.
In Washington, lawmakers from both sides of the aisles were aghast. Senator John McCain, an Arizona Republican, said Trump turned in "one of the most disgraceful performances by an American president in memory."
"The damage inflicted by President Trump's naiveté, egotism, false equivalence, and sympathy for autocrats is difficult to calculate," McCain said a statement emailed to reporters, adding the summit was "a tragic mistake."
House Speaker Paul Ryan, a Wisconsin Republican, said there was "no question" Russia interfered in the election.
"The president must appreciate that Russia is not our ally," Ryan said. "There is no moral equivalence between the United States and Russia, which remains hostile to our most basic values and ideals."
"This was the day an American president stood on foreign soil next to a murderous lying thug and refused to back his own country," former FBI Director James Comey, whom Trump fired, said in a tweet. "Patriots need to stand up and reject the behavior of this president."
And in a rare rebuke of the president he serves, Coats issued a statement saying the intelligence community had "been clear in our assessments of Russian meddling in the 2016 election and their ongoing, pervasive efforts to undermine our democracy."
In an interview with CBS News taped before the summit but released afterward, Trump additionally said that he didn't know if he agreed with Coats's warning that America's digital infrastructure was at a breaking point.
The president attempted some cleanup after leaving Helsinki.
"As I said today and many times before," he wrote on Twitter, "'I have GREAT confidence in MY intelligence people.' However, I also recognize that in order to build a brighter future, we cannot exclusively focus on the past – as the world's two largest nuclear powers, we must get along! #HELSINKI2018"
The cheering in Moscow, by contrast, could almost be heard from Finland.
Russian Foreign Minister Sergei Lavrov said the summit was "magnificent, better than super," according to the Interfax news service. Alexander Dynkin, head of the Institute of World Economy and International Relations in Moscow, which advises the Kremlin, said the summit was "a big step towards a new normality in Russia-U.S. relations."
Putin ally and the head of the Russian state sovereign fund Kirill Dmitriev said the summit "exceeded expectations to establish a positive and constructive dialogue between our two countries."
"As demonstrated by Russian direct investment fund's accomplishments, the Summit's proposed initiatives for co-operation through business are highly effective," he told Bloomberg via press service.
Further amplifying the Russian advantage, the meeting itself was a victory for Putin, puncturing the isolation imposed by other Western powers after his 2014 annexation of Crimea and the Kremlin's persistent support for Syrian leader Bashar al Assad in his country's bloody civil war.
Trump flattered the Russian leader from the opening moments of the summit, calling the U.S. and Russia the world's major nuclear powers. Sitting in the presidential palace in Helsinki as American and Soviet leaders had during the Cold War, the entire affair had the effect of elevating a Russian leader who presides over a country struggling to maintain its economic and diplomatic relevancy.
That Trump's performance came on the heels of a tour of Europe in which he ratcheted up tensions with American allies only magnified the impact of his outstretched hand.
In Brussels last week, Trump insulted German Chancellor Angela Merkel, saying her government is controlled by Russia because of a gas pipeline project between the countries. He forced a NATO summit into an emergency session to address his complaints that other countries weren't accelerating their defense spending quickly enough.
In the U.K., Trump criticized British Prime Minister Theresa May's approach to Brexit, complimented her political rival Boris Johnson and then declared the European Union a U.S. "foe" in an interview with CBS News.
German Foreign Minister Heiko Maas said in a newspaper interview on Monday that Europeans could "no longer completely rely on the White House."
White House aides say there's a strategy at play. The president believes hardball tactics work best with friends while a more amicable approach is better with adversaries. By kindling a relationship with Putin, they argue, the U.S. is better-prepared to tackle complex and difficult global challenges, from a chaotic Middle East to nuclear proliferation.
"Constructive dialogue between the United States and Russia affords the opportunity to open new pathways toward peace and stability in our world," Trump said. "I would rather take a political risk in pursuit of peace than to risk peace in pursuit of politics."
But the president has yet to articulate how the United States benefits from his repeated refusals to confront Russia over it election interference or from his public humiliation of the American intelligence community. It was never even clear why Trump held the summit with Putin, with no particularly pressing issues that could be resolved in a meeting in a foreign capital.
Trump also appears out of step with even his closest advisers. Just a day before the summit, national security adviser John Bolton told ABC News he'd "find it hard to believe" Putin himself wasn't aware of the attack on Democratic computer systems.
The president's argument is further complicated by the reality that he and Putin announced no progress on any matter where cooperation may have been possible. There was no agreement on the crisis in Syria, Russian incursions in Ukraine or the annexation of Crimea. Nor did the leaders announce developments in talks on a pair of nuclear arms treaties.
"This was a meeting about the fact that you can have a meeting," said Matthew Rojansky, director of the Kennan Institute at the Wilson Center in Washington. "And they did it and there was very little of substance."