Ivory Coast Coalition Names Ouattara as Unified Party Leader
(Bloomberg) -- A majority of Ivory Coast's ruling coalition partners backed a proposal to create a unified party and appointed President Alassane Ouattara as the leader even though the second-biggest member said it will field its own candidate in the next election.
Five of the six members of the Rally of Houphouetists for Democracy and Peace coalition agreed on the creation of a party that will carry the same name and backed Ouattara's appointment as leader, Albert Toikeusse Mabri, a spokesman for the group and minister of higher education, told reporters Monday in the commercial capital, Abidjan.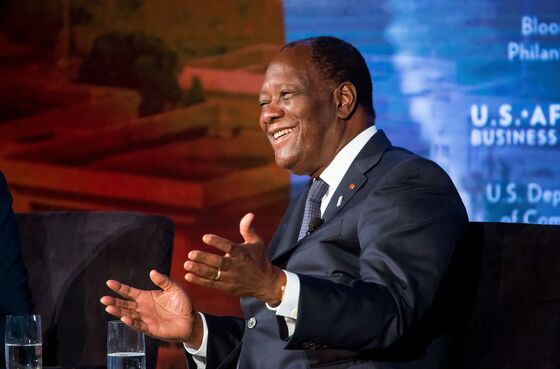 The decision on the unified party comes three days after the leader of the Democracy Party of Ivory Coast, Henri Konan Bedie, called on his group to boycott Monday's meeting after deciding last month that it won't take part in unification talks until after presidential elections in two years.
"The adoption of the statutes allows the president of the RHDP, Alassane Ouattara, to continue talks with Bedie and other coalition partners," Toikeusse Mabri said.
Addressing Monday's meeting, Ouattara called for Bedie and his party to join the alliance. "To Bedie and the PDCI, I want to send them a message of dialogue. We must stay together. We must not divide ourselves," he said.