Trump Lashes Media, Says He'll Inevitably Be Criticized on Putin
(Bloomberg) -- President Donald Trump predicted on Sunday he'll be criticized for his meeting with Russian President Vladimir Putin no matter what the outcome, and he renewed an attack on the news media as he headed to Helsinki for the much-anticipated summit.
Earlier, Trump and top aides looked to ratchet down expectations for the Putin sit-down, with the U.S. ambassador to Russia saying it wasn't really a summit, just a meeting.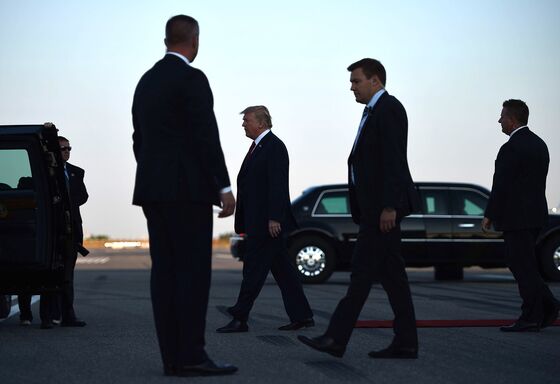 "No matter how well I do at the Summit, if I was given the great city of Moscow as retribution for all of the sins and evils committed by Russia over the years, I would return to criticism that it wasn't good enough," Trump said in a series of tweets.
"Much of our news media is indeed the enemy of the people," he added, returning to a phrase he first used in February 2017, a month after his inauguration.
Trump faces intensifying pressure going into the meeting with Putin after Friday's indictment of 12 Russian intelligence officers for hacking computer systems operated by the Democratic Party, a state election board, and a company supplying voter verification software. Some Republicans have urged Trump to forcefully confront Putin about the election meddling, while Democratic lawmakers urged the president to scrap the meeting altogether.
From the president on down, the Trump administration looked to tone down prospects for meaningful outcomes from Monday's highly-anticipated sit-down.
Interviewed by CBS, Trump said "I go in with low expectations," adding that he would update the network about his goals for the meeting after it's taken place. "Nothing bad is going to come out of it, and maybe some good will come out," Trump said.
Jon Huntsman, the U.S. ambassador to Russia, tried rebranding the event in an interview on NBC's "Meet the Press" on Sunday from Finland's capital. "I've heard it called a summit. It's a meeting," he said.
And John Bolton, Trump's national security adviser, said it would be "silly" for Trump to demand extradition of the Russians, as some lawmakers and others have urged -- adding that no "concrete deliverables" were anticipated from the "basically unstructured" event.
The Russian constitution bars extradition of citizens to face trial abroad.
"I think it's pretty silly for the president to demand something that he can't get legally," Bolton said on ABC's "This Week." "For the president to demand something that isn't going to happen puts the president in a weak position, and I think the president has made it very clear he intends to approach this discussion from a position of strength."
Trump's characterization of the news media as enemies was notable, coming as he flew to meet with the leader of what's regarded as one of the most repressive, anti-press regimes in the world.
On July 12, State Department spokeswoman Heather Nauert issued a statement honoring two journalists -- Natalya Estemirova and Paul Klebnikov -- murdered in Russia and emphasized U.S. backing of a free press.
"We honor the memories of Ms. Estemirova and Mr. Klebnikov by calling for an end to the impunity for human rights abuses in Chechnya and elsewhere in Russia, and by reiterating U.S. support for brave journalists and human rights defenders in Russia and around the world," Nauert said in the statement.
Huntsman, speaking on "Fox News Sunday," said he expects Russia's "malign activity" in elections -- including in the U.S. and in the U.K.'s Brexit vote -- would be "one piece of"' the agenda on Monday.
The pair are expected to discuss a wide range of other topics, from international arms control efforts to the Iranian presence in Syria.
Senator Mark Warner of Virginia, the top Democrat on the Senate Intelligence Committee, said he's wary of Trump meeting alone with Putin because the Russian president is a trained KGB agent and Trump is not known for his preparation.
"Frankly, I think he'll take advantage of this president," Warner said on CNN's State of the Union" on Sunday. "We need other individuals from his administration in the room so we know at least someone will press the Russians on making sure they don't interfere in future U.S. elections."
Trump promised on Friday to "absolutely, firmly ask the question" about Russian involvement in the 2016 election. But he also downplayed expectations for a gotcha-style confession.
Trump previously has shown little appetite for pressing the issue, telling reporters after meeting with Putin in Vietnam last November that he was done discussing it and that he believed the Russian leader's denials were sincere.
And Trump's response to the indictments has focused not on Russia but on former President Barack Obama's handling of the issue. "These Russian individuals did their work during the Obama years," Trump said on Twitter on Saturday. "Why didn't Obama do something about it? Because he thought Crooked Hillary Clinton would win, that's why."
In his CBS interview, Trump said the DNC "should be ashamed of themselves for allowing themselves to be hacked."
"They had bad defenses and they were able to be hacked. But I heard they were trying to hack the Republicans too. But -- and this may be wrong -- but they had much stronger defenses," Trump said.
According to federal prosecutors, Russian agents first attempted to infiltrate email accounts tied to Hillary Clinton, Trump's Democratic rival for the presidency, the same day Trump encouraged Russia to produce emails from Clinton's tenure as secretary of state.
"Trump views Putin as his benefactor," said Representative Adam Schiff, a Democrat from California, on CNN's "State of the Union."