Theresa May Says Her Brexit Plan Supports Aerospace Companies Like Airbus
(Bloomberg) -- Prime Minister Theresa May, under pressure from the U.K. aerospace sector to deliver a Brexit deal that safeguards its competitiveness, will say her plan for leaving the European Union strengthens the position of manufacturers and protects jobs.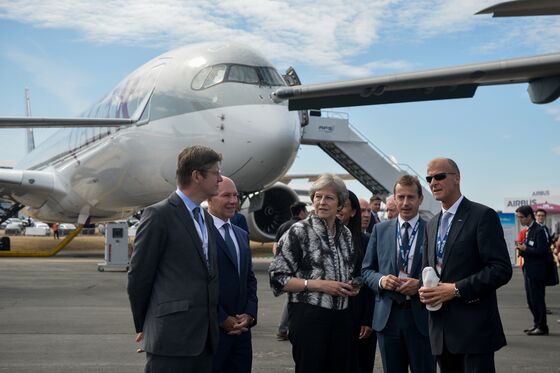 In a speech at the Farnborough air show in southern England on Monday, May will announce 343 million pounds ($453 million) of funding for the industry. She'll also confirm plans for Britain to stay in agencies critical to the industry, including the European Aviation Safety Agency, according to her office.
Some of Britain's biggest employers, including planemaker Airbus SE and engine specialist Rolls-Royce Holdings Plc, have been ramping up pressure on May to minimize the impact of the split from the EU, warning that investments and jobs are at stake. The government published its Brexit plan Thursday, calling for a "common rule book" with the bloc on trade in goods it says will ensure "frictionless" exchange.
"We can all feel incredibly proud of our position as a leading aerospace nation," May will say. "I want us to build on that, and ensure not only that we retain our prominence, but that in an increasingly competitive industry we make the most of the opportunities that lie ahead."
The premier will speak amid controversy surrounding comments from Airbus in the run up to a key Brexit meeting at her Chequers country retreat in which the company suggested it could shift investment out of the U.K. The remarks and others from companies including BMW AG were regarded as having helped May to prevail over opposing voices in her Cabinet.
May also faces pressure over a 2 billion-pound contract for early-warning aircraft, which Airbus reportedly reckons should be opened up to bidding rather than handed to U.S. rival Boeing Co. The Toulouse, France-based company has also stressed its role in saving posts at a Bombardier Inc. plant in Northern Ireland through its takeover of the ailing C Series jet, since renamed the A220.
"Our proposal sets out the right deal for the U.K. -- honoring the democratic decision of the British people, protecting the integrity of our precious union, supporting growth, maintaining security and safeguarding British jobs," May will say at Farnborough. "We will take back control of our borders, our laws and our money. But we will do so in a way that is good for business and good for our future prosperity."