May Calls on Britons to Back Her Plan, or Risk No Brexit
(Bloomberg) -- Prime Minister Theresa May defended her plan for leaving the European Union as the only viable option, and called on voters and lawmakers to get behind it or "risk ending up with no Brexit at all."
"I am not going to Brussels to compromise our national interest," May wrote in the Mail on Sunday. "I am going to fight for it. I am going to fight for our Brexit deal -- because it is the right deal for Britain."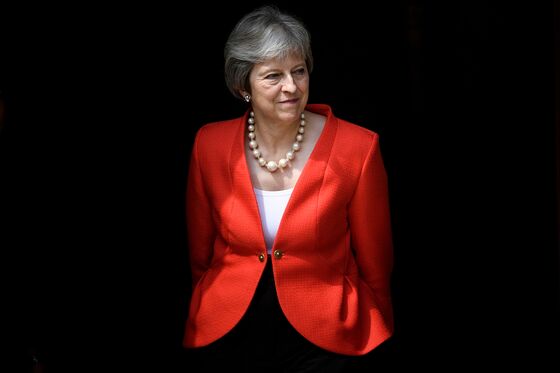 May faces rising anger from Euroskeptics in her Conservative Party over her Brexit policy, which lays out a closer relationship to the EU's single market than they hoped for. Both former Foreign Secretary Boris Johnson and David Davis, the former Brexit secretary, resigned over it, fueling speculation of a leadership challenge.
May's Brexit blueprint calls for a new "common rule book" with the EU for trade in goods, but critics argue that it would leave Britain signed up to the bloc's rules it would no longer have any ability to influence and limit its options for trade with non-EU countries in the future.
"This jeopardizes the opportunities offered by Brexit," Davis wrote in the Financial Times on Sunday. "The chance to become a credible trading partner will be compromised and we will be unable to strike free-trade deals."
U.S. President Donald Trump criticized the way May was dealing with the EU in an interview in the Sun newspaper last week, and said too much regulatory alignment with the EU would "kill" a trans-Atlantic free-trade deal. He softened his tone at a joint press conference on Friday, though he didn't roll back his central warning.
"The only thing I ask of Theresa is that we make sure we can trade, that we don't have any restrictions, because we want to trade with the U.K. and the U.K. wants to trade with us," Trump said. He also revealed that May had rejected his earlier "suggestion" for how to deal with the EU because it was too "brutal," without saying what it was.
May revealed on the BBC's "Andrew Marr Show" on Sunday that Trump advised her to "sue the EU, not go into negotiations, sue them."
May conceded on Sunday that her Brexit proposal -- agreed to by the Cabinet at her Chequers country retreat -- was a compromise, to adhere to the 2016 referendum decision while protecting jobs that rely on manufacturers' supply chains and ensuring no hard border between Northern Ireland and Ireland.
"We're going to be able to cut tariffs, we're going to be able to change quotas, we're going to be able to have freedom on services, we're going to be able to have bilateral investment deals," May said on the BBC. "This is a good deal for the U.K."
In her Mail on Sunday letter, May warned parliamentarians seeking to scuttle the plan -- and also those trying to force amendments to strengthen post-Brexit EU ties -- that they risk causing "a damaging and disorderly Brexit."
May will get a sense of where she stands this week when bills on post-Brexit trade and customs return to the House of Commons. Leading pro-Brexit Tory Jacob Rees-Mogg, chairman of the European Research Group, has offered amendments to the Taxation (Cross-Border Trade) Bill that have little chance of passing, but are intended as a show of strength.
"The Government unfortunately believes that Brexit is not a good thing in itself," Rees-Mogg told the BBC's "Sunday Politics" program. "It seems to think it has to be tempered with non-Brexit."
On paper, only seven Conservatives need to rebel for it to be defeated, though Rees-Mogg said both bills are "sensible overall" and doesn't expect the votes to go against the government this week. But he warned that in the long-term, parliamentary arithmetic would force May to either change her Brexit policy or rely on the opposition Labour Party -- a strategy he warned would "split" the Conservative Party.
Foreign Office Minister Alan Duncan urged Tories to back May and suggested "the economic cost and pain is likely to be very severe" if the U.K. leaves the bloc without an agreement.
"Any of those who think that they can either criticize her, challenge her or anything like that must realize that they are playing with fire and that they will end up destroying themselves," Duncan said on Sky's "Sophie Ridge on Sunday" broadcast.
Meanwhile, leading Labour Party members made it clear May won't be able to rely on opposition support for her plans. Peter Mandelson, Britain's former trade commissioner in Brussels and a Labour peer, wrote in the Observer May's policy would deliver "less like a soft Brexit than a national humiliation," while Labour's Deputy Leader Tom Watson told Sky News on Sunday it was "not good enough."
Sadiq Khan, the Labour mayor of London, wrote to the prime minister to say her plan risks causing "real economic harm" to the capital and the U.K. as a whole by not protecting creative, tech and financial services, and calling on her to "change course" and commit to keeping Britain in the EU's single market and customs union.
Adding to May's woes, opinion polls this weekend showed Labour opening up a lead over the Conservatives. A Deltapoll survey for the Sun on Sunday placed Labour at 42 percent, five points ahead of the Tories. According to an Opinium poll for the Observer, support for the Conservatives has dropped by six percentage points since the beginning of June to 36 percent, with Labour on 40 percent.