Paul Says He's 'Concerned' About Kavanaugh for Supreme Court
(Bloomberg) -- Republican Senator Rand Paul said Sunday he's "worried" about Supreme Court nominee Brett Kavanaugh's record on constitutional privacy rights, signaling that he's far from certain to vote for President Donald Trump's pick in the closely divided Senate.
"I'm concerned about Kavanaugh," the Kentucky Republican said on "Fox and Friends" on Sunday.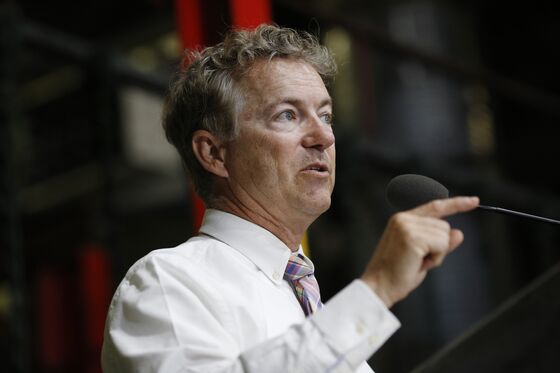 Paul said he's worried and disappointed that Kavanaugh appears to support government surveillance programs that curtail privacy rights in the name of national security. He cited an opinion by the D.C. Circuit Court of Appeals judge in 2015 that "the Government's metadata collection program is entirely consistent with the Fourth Amendment."
Paul said he's willing to meet with Kavanaugh and bring an "open mind" to the confirmation process. His vote could be pivotal in a chamber that Republicans control by a 51-49 margin, with Arizona's John McCain absent as he fights brain cancer. There are centrists in both parties who've said they're undecided about how they'll vote on the nominee to replace retiring Justice Anthony Kennedy.
First elected to the Senate in 2010, Paul ran for president in 2016 on a libertarian-minded platform and has raised hackles as an opponent of warrantless government data-collection programs. He challenged the government's widespread collection of Americans' phone records in 2014 and has mounted filibusters on the Senate floor against the extension of U.S. surveillance authority.
In the 2015 opinion Klayman v. Obama, Kavanaugh sided with the government in a case challenging its mass collection of phone records. The U.S. Court of Appeals for the District of Columbia Circuit vacated a lower court's move to halt the surveillance program, and the lawsuit was eventually dismissed for lack of standing.
"I disagree completely," Paul said Sunday about Kavanaugh's defense of the surveillance program. "And I think if we give up our liberty for security, we may end up with what Franklin said, and that's neither -- neither liberty nor security."
"I don't think anybody in American believes that when you use a cell phone company, or when you use visa, or when you use a bank, that somehow you've given up your privacy," Paul said. He called that view "horribly wrong."