Italy Asks EU Countries to Accept Migrants From Ships
(Bloomberg) -- Italy has called on other European Union nations to take some of the 450 migrants aboard two ships in the Mediterranean after the country's interior ministry refused to allow them to come ashore.
"I expect facts and not words, concrete action," said Matteo Salvini, who leads the anti-immigration League party and is both interior minister and a deputy prime minister, according to a report by Italian news agency Ansa. He made the comments after Italian Foreign Minister Enzo Moavero Milanesi sent a letter Saturday to EU countries asking them to respect commitments on migrants they made at a summit in June.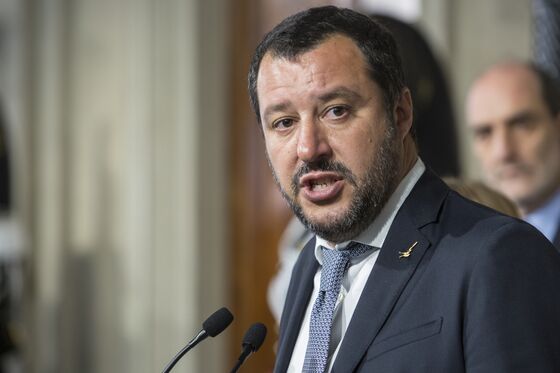 Italian Prime Minister Giuseppe Conte said late Saturday that France and Malta have agreed to accept 50 migrants each. "This is the first important result obtained after a day of phone calls and written exchanges I have had with all 27 European leaders," he said in a post on his Facebook profile. He added that Italy would accept some of the rescued migrants if other countries agreed to share the burden.
Germany will also take 50 people amid ongoing talks on increased bilateral cooperation on asylum, a spokeswoman for the country's government said.
Conte leads the new populist Italian government that came to power arguing that Italians bear the brunt of a migrant influx and that EU neighbors should take more.
The latest tension erupted Friday when Salvini said a boat carrying the 450 "illegal immigrants" near Malta would not be allowed to dock in Italy. The migrants were transferred on Saturday near the Italian island of Linosa to a ship operated by EU border agency Frontex and a vessel operated by Italy's tax police.