Finns Take to the Streets to Protest Amid Trump-Putin Meeting
(Bloomberg) -- As U.S. President Donald Trump and Russia's Vladimir Putin met in Helsinki on Monday, thousands of Finns took to the streets.
More than 2,000 people marched in the Finnish capital a day before the meeting, holding a banner that read "Helsinki calling for human rights." The country's biggest newspaper, Helsingin Sanomat, had arranged for the words "Mr. President, welcome to the land of the free press" to be displayed across the outside of the main airport, in English and Russian.
Across Helsinki, Amnesty International hung banners and distributed placards saying "make human rights great again." A demonstration behind the Presidential Palace on Monday focused on family planning rights, with protesters dressed up as pregnant Trumps.
By early Monday, police said 13 smaller demonstrations were planned in the Helsinki area. By late afternoon, police had detained about 20 people it said were behind a plan to block one of the city's main boulevards and disrupt the day's events.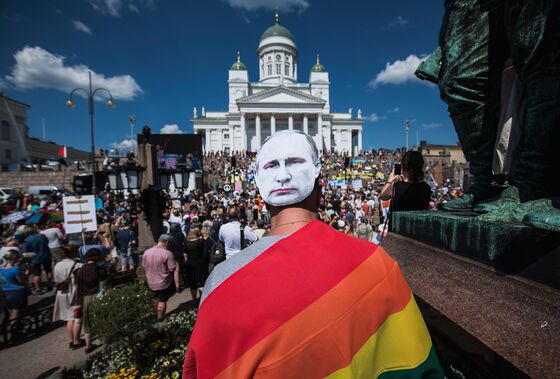 Trump's European trip has been dogged by mass demonstrations. In London, tens of thousands of people marched under an effigy of the U.S. president in balloon form, depicting him as an orange baby. In Scotland, where Trump took a break between official visits to play golf at one of two resorts he owns in the country, there were demonstrations in Glasgow and Edinburgh.
Not everyone was protesting against Trump and Putin. The youth wing of Finland's anti-immigration party, The Finns, managed to get about 50 people to hold a pro-Trump rally. Organizers distributed hats that read "Make Helsinki Great Again."
Finland, which shares the European Union's longest border with Russia and isn't a member of the North Atlantic Treaty Organization, will also use the meeting to discuss its own diplomatic interests. Finnish President Sauli Niinisto held a breakfast meeting with Trump. Later in the day, he will sit down for a one-on-one exchange with Putin.