White House, CNN Trade Barbs Over Scrapped Bolton Interview
(Bloomberg) -- The White House press secretary said the Trump administration had punished "bad behavior" after a planned CNN interview with National Security Adviser John Bolton was canceled following a tense exchange between President Donald Trump and one of the network's correspondents.
Bolton had been booked to appear on CNN's "State of the Union" show on Sunday, and "remains fully prepared to do the interview, but the White House has canceled it," CNN correspondent Jake Tapper said on Twitter.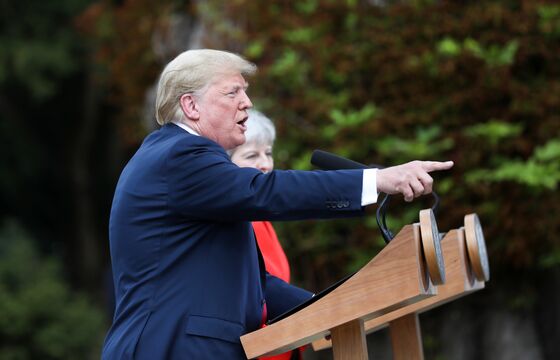 Tapper attributed the move to the exchange between Trump and CNN White House correspondent Jim Acosta during a press conference with British Prime Minister Theresa May on Friday. After Trump criticized the networks NBC and CNN, the president rejected Acosta's bid to ask a question, declaring "CNN is fake news; I don't take questions from CNN."
Trump's latest media criticism -- which included lashing out at an NBC correspondent on Friday as "possibly worse than CNN" -- drew a sharp response from the White House Correspondents Association's outgoing president.
"Asking smart, tough questions, whether in a presidential press conference or interview, is central to the role a free press plays in a healthy republic," the WHCA's Margaret Talev, who covers the White House for Bloomberg News, said in a statement. "Saying a news organization isn't real doesn't change the facts and won't stop us from doing our jobs."
John Roberts, the Fox News reporter whom Trump called on to ask a question right after rejecting Acosta, also called the president's attack on the media "unfair" in a statement published by the Washington Post. Roberts was criticized for not defending CNN's Acosta during the press conference.
Despite the barbs, Trump offered some praise for Acosta on Twitter Saturday, calling him "actually a nice guy" in a tweet that otherwise labeled CNN as "Fake News" and said the network was "dying in the ratings."
The canceled Bolton appearance comes amid other last-minute shuffles in weekend news programming, as Trump conducted a series of news interviews ahead of Monday's historic summit with Vladimir Putin.
U.K. journalist Piers Morgan questioned Trump aboard Air Force One on Friday, for a story that ran in the Mail on Sunday, and CBS Evening News Anchor Jeff Glor interviewed Trump on Saturday at his Turnberry golf resort in Scotland. Excerpts were set to air on CBS' "Face the Nation" Sunday.
Bolton is still scheduled to appear Sunday on ABC's "This Week."