Trump Pressed to Confront Putin After Mueller's Indictments
(Bloomberg) -- Whatever Donald Trump had hoped to get out of his summit with Vladimir Putin, Robert Mueller changed the game.
The U.S. president's goals for the meeting had always been unclear. But now Trump is under pressure -- including from several members of Congress from his own party -- to finally confront Putin once and for all over trying to sabotage the election that put Trump in the White House.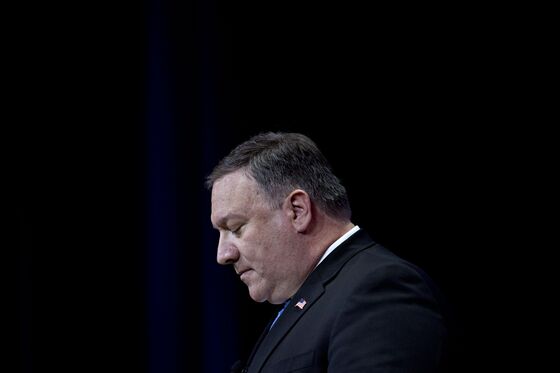 Democrats called on him to scrap the summit in protest. That's not happening, the administration says. "I am confident that President Trump's meeting with Vladimir Putin will put America in a better place," Secretary of State Michael Pompeo told reporters on Friday. "It's very important they meet."
There's also no sign that Trump will demand that Putin turn over the 12 Russian intelligence officials the special counsel indicted -- and they likely will never stand trial.
But Monday's meeting in Helsinki has become a pivotal test of Trump's strength and will to defend election integrity, something he hasn't done so far.
"It will be somewhat more difficult for him to simply go through the motions," said Daniel Fried, who served as assistant secretary of state for Europe under President George W. Bush. "The point is to send Putin a very clear message: Stay out of our elections."
Senator John McCain, an Arizona Republican, said the indictments add to evidence confirming an "extensive plot" by the Kremlin to sow discord among American voters, attack the 2016 election, and undermine faith in democracy.
"President Trump must be willing to confront Putin from a position of strength and demonstrate that there will be a serious price to pay for his ongoing aggression towards the United States and democracies around the world," McCain, the Republican presidential nominee in 2008, said in a statement. "If President Trump is not prepared to hold Putin accountable, the summit in Helsinki should not move forward."
Trump focused his ire not on Putin but his predecessor, former President Barack Obama, in a series of Twitter messages Saturday morning from his Turnberry golf club in Scotland.
"The stories you heard about the 12 Russians yesterday took place during the Obama Administration, not the Trump Administration," Trump wrote. "Why didn't they do something about it, especially when it was reported that President Obama was informed by the FBI in September, before the Election?"
In a subsequent tweet, Trump questioned why the FBI didn't take possession of the Democratic National Committee server that was hacked by the Russians, and appeared to insinuate an unsubstantiated and unexplained conspiracy involving the "Deep State." Former FBI director James Comey said last year Democrats had opted to give the server to a third party that shared its analysis with the FBI, rather than turning it over directly to the government.
The tweets followed remarks at a press conference Friday where Trump belittled the idea of challenging the Russian president over election interference during a press conference on Friday just before the criminal charges were announced, though Deputy Attorney General Rod Rosenstein had warned Trump earlier in the week the indictments were coming.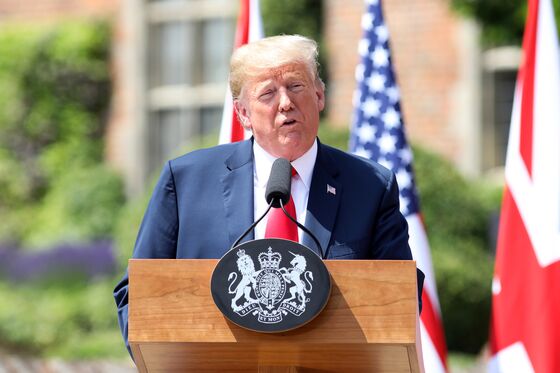 "I will absolutely, firmly ask the question" to Putin, Trump said at a news conference on Friday with U.K. Prime Minister Theresa May at Chequers, her country estate. But he suggested there was little point to the exercise.
"I don't think you'll have any 'Gee, I did it, I did it, you got me,"' Trump said. Referring to a TV courtroom drama of the 1950s and 1960s that often featured a dramatic, last-minute confession, he added, "There won't be a Perry Mason here, I don't think, but you never know what happens, right?"
Trump has previously shown little appetite for pressing the issue, telling reporters after meeting with Putin in Vietnam last November that he was done discussing it and that he believed the Russian leader's denials were sincere.
"He said he didn't meddle. He said he didn't meddle. I asked him again. You can only ask so many times," Trump told reporters aboard Air Force One after the meeting. "And I believe, I really believe, that when he tells me that, he means it."
Some lawmakers from Trump's own party, though, said Friday that was no longer enough.
Republican Senator Jeff Flake of Arizona, a frequent critic of the president who's not seeking re-election when his term ends this year, said Trump must do more than ask.
"Mr. President, as today's indictments reaffirm, election interference is not a question to be asked of Vladimir Putin, but a statement to be made to Vladimir Putin: You interfered in our elections," Flake said on Twitter.
And House Foreign Affairs Chairman Ed Royce, a California Republican, said in a statement that Trump "should use today's indictments to challenge" Putin at the meeting.
A chorus of Democrats, led by Senate Minority Leader Chuck Schumer of New York and House Minority Leader Nancy Pelosi of California, said Trump must call off the summit.
"President Trump should cancel his meeting with Vladimir Putin until Russia takes demonstrable and transparent steps to prove that they won't interfere in future elections," Schumer said in a statement. "Glad-handing with Vladimir Putin on the heels of these indictments would be an insult to our democracy."
The White House's initial reaction to the indictments was defensive and included no criticism of the Russian government or its indicted operatives, all of whom were identified as officials in Moscow's main military intelligence agency, the GRU. The men are charged with stealing user names and passwords of people working in Democrat Hillary Clinton's presidential campaign, including its chairman John Podesta, and hacking into the computer networks of other Democratic party organizations.
White House spokeswoman Lindsay Walters said in a statement that the "charges include no allegations of knowing involvement by anyone on the campaign and no allegations that the alleged hacking affected the election result."
Podesta said in an interview that at the summit "maybe he should ask Putin to turn over the 12 people indicted to the United States for trial."
Trump has long downplayed Russia's meddling in the 2016 election, and has repeatedly referred to Mueller's investigation as a "witch hunt" run by "13 Angry Democrats," even as it has piled up guilty pleas and indictments of Russians and Trump campaign associates.
Trump suggested at stops in Europe that his primary goal for the meeting with Putin is a better relationship, although he also said he would discuss Russia's incursions into Ukraine, the civil war in Syria, and nuclear proliferation.
"We go into that meeting not looking for so much," Trump told reporters at a news conference Thursday following a NATO summit in Brussels.
And at Friday's press conference with May, Trump said he's not going in with high expectations. "We do have political problem where -- you know in the United States we have this stupidity going on. Pure stupidity. But it makes it very hard to do something with Russia. Anything you do, it's always going to be, 'Oh, Russia, he loves Russia."'
The indictments are the most detailed explanation so far of how units of Russia's GRU attempted to influence the 2016 election by stealing Democratic emails, then releasing them in ways meant to dominate news headlines as voters made up their minds.
Prosecutors also detailed a second Russian operation targeting the infrastructure that Americans use to cast their ballots and the officials that oversee those elections locally.
American intelligence agencies have concluded that Putin personally ordered a campaign to undermine "public faith in the U.S. democratic process" with the goal of hurting Clinton's candidacy and ultimately helping to elect Trump.