Trump Says He Understands Why Women Fear Roe v. Wade Reversal
(Bloomberg) -- President Donald Trump said he understands why women are concerned that Supreme Court nominee Brett Kavanaugh may lead to a reversal of existing abortion law in the U.S., but says it could be a "long time" before the high court hears a case on the topic.
Asked in an interview with the Daily Mail's Piers Morgan if he understood why women were concerned with his selection, Trump said he did, but that views on abortion rights were "a 50/50 question" in the U.S.
"I think he is going to be confirmed and someday in the distant future there could be a vote," Trump said of his Supreme Court nominee. "There's also a very good chance there won't be a vote. We'll have to see what happens. A case has to get up there. It could be a long time before a case ever gets up there."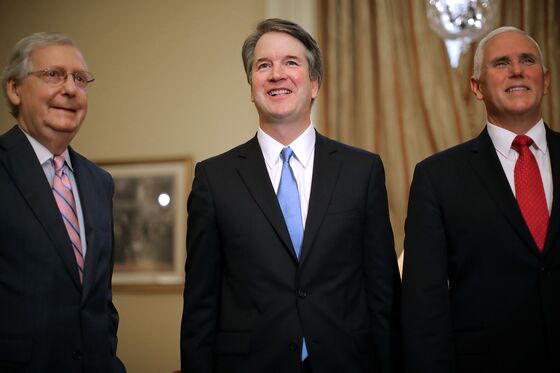 Trump's characterization of views as "50/50" isn't accurate. Few Americans want abortion to be outlawed -- and those opinions have been steady for some 40 years.
When asked specifically about the 1973 Roe v. Wade decision that affirmed women's right to legal abortion in the U.S., a poll published June 29 by the Kaiser Family Foundation said 29 percent want to see the ruling overturned, against 67 percent who said they would not.
If confirmed, Kavanaugh would replace Justice Anthony Kennedy, seen as a swing member of the nine-judge panel who often voted with liberal members of the court on abortion issues. That included a case in 2017, in which the Supreme Court struck down regulations designed to restrict Texas abortion clinics.
While Kavanaugh hasn't publicly said whether he would vote to overturn Roe, Trump said as a candidate for the White House that he would appoint justices who would do so "automatically."
But during the process that led to Kavanaugh's selection, Trump stressed he hadn't explicitly asked the justice how he would rule on certain issues. Key female Republican senators including Susan Collins of Maine and Lisa Murkowski of Alaska have said they would have misgivings about a nominee who opposed Roe.
A May 2018 Gallup poll found that 18 percent want abortion to be illegal in all circumstances, while 50 percent want it to be legal in some circumstances and 29 percent say it should be legal in all circumstances.