Trump Says Border Policy Mirrors Obama's, Denigrates Immigration
(Bloomberg) -- President Donald Trump falsely claimed that his administration hadn't implemented new policies leading to the separation of children from their parents at the U.S. border, and said immigration is changing Europe "and I don't mean in a positive way."
Trump was told during an interview on Air Force One with British journalist Piers Morgan that protests against his visit across the U.K. were a response to his administration's policy of child separation. The president interrupted to claim "that wasn't my policy."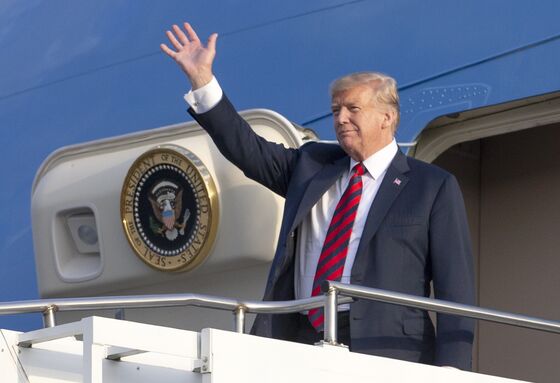 "Obama had the same exact policy," Trump said of former President Barack Obama. "In fact, they were showing pictures of kids separated from their parents and they say, isn't this terrible. And it was pictures of 2014."
In fact, the separations stemmed from a new policy announced in April by Attorney General Jeff Sessions intended to serve as a deterrent to illegal immigration.
Under Sessions' so-called "zero-tolerance" policy, U.S. attorneys were ordered to criminally prosecute all illegal immigration referrals, meaning migrants were sent to federal jail, where they couldn't be detained alongside their children.
As a result, at least 2,342 children were separated from the adults with whom they were traveling, and many are yet to be reunited with their families. Trump eventually reversed the Justice Department policy through an executive order as furor grew domestically.
Trump was correct that photographs circulated recently by prominent Democrats and some journalists on Twitter showing children forced to sleep on the floor in metal cages were from 2014, when the Obama administration struggled with a surge of unaccompanied minors crossing the U.S. border with Mexico.
Trump also reiterated to Morgan his concerns that immigrants were "seriously changing Europe," and said the value of migrants to a society depended "on a lot of things" including education and work levels.
"I just see what's happening, the crime is through the roof in some places that have never had crime," Trump said in the interview, published in the Daily Mail's Sunday edition. "I'm not going to mention specific countries, but you can pick the country and you can see what's happening."
The president went on to say that the European Union had "really admonished" countries like Hungary, whose Prime Minister Viktor Orban has vocally opposed the bloc's migration policies and implemented tougher policies against refugees seeking asylum.
Trump's remarks doubled down on similar comments in an interview earlier in the week with The Sun, in which he warned immigrants were changing the culture of Europe. British Prime Minister Theresa May, asked about the remarks during a joint press conference with Trump, said her country had "a proud history of welcoming people who want to come to our country to contribute to our economy and contribute to our society."
Trump told Morgan that he'd discussed the Brexit issue during his audience late Friday with Queen Elizabeth II, although he refused to reveal how the 92-year-old monarch felt about the issue.
"Well, I can't talk, you know I've heard very strongly from a lot of people, you just don't talk about that conversation with the Queen, right?" Trump said. "You don't want to do that."
The interview with Morgan was published a day before Trump is slated to fly from Scotland to Helsinki for a one-on-one summit with Russian President Vladimir Putin. Trump said he assumed Putin was "probably" a ruthless person, but nevertheless defended the trip as worthwhile.
"I think we could probably get along very well. Somebody said are you friends or enemies? I said well, it's too early to say," Trump said.
The president also appeared to conflate the U.K. and Great Britain, a day after the White House posted -- and subsequently deleted -- a tweet saying Trump was "departing the U.K." as he flew from London to Scotland.
"You have different names -- you can say 'England,' you can say 'U.K., you can say 'United Kingdom,' so many different -- you know you have, you have so many different names," Trump said. "I always say: which one do you prefer? Great Britain? You understand what I'm saying?"
When Morgan asked Trump if he knew Great Britain and the U.K. were not quite the same thing -- Great Britain refers to England, Scotland, Wales and their associated islands, while the U.K. also includes Northern Ireland -- Trump said he did.
"You know I know, but a lot of people don't know that," the president said.