Congo's Jean-Pierre Bemba Nominated as Presidential Candidate
(Bloomberg) -- Former Democratic Republic of Congo Vice President Jean-Pierre Bemba has been nominated his party's candidate for upcoming presidential elections, five weeks after his conviction for war crimes was overturned at the International Criminal Court.
The Movement for the Liberation of Congo, known as the MLC, named Bemba, who was the country's vice president from 2003 to 2006, on Friday at the end of a two-day congress, according to a statement issued by the party. Presidential and legislative elections are due to take place on Dec. 23.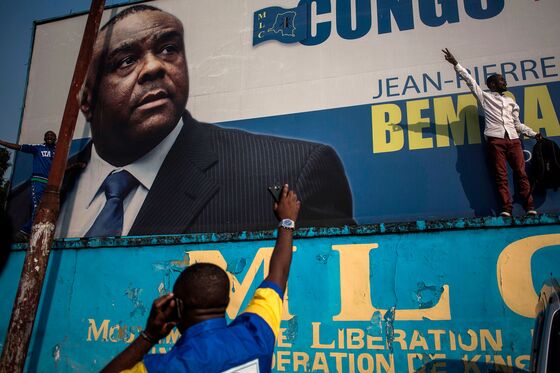 The 55-year-old's return to the political fray presents President Joseph Kabila and his ruling coalition with a major rival who they expected to still be behind bars in The Hague. The International Criminal Court quashed Bemba's 2016 convictions for war crimes and crimes against humanity on June 8.
Bemba had been given an 18-year prison sentence for murders and rapes committed in 2002 and 2003 in the neighboring Central African Republic by fighters from the Congolese rebel group he then led, which was later transformed into his political party.
He is still in Belgium, awaiting the conclusion of hearings over a second conviction for witness tampering, and it is not yet clear if he will return to Congo before Aug. 8, the deadline for filing candidacies for the election.
Bemba was defeated in the 2006 presidential election by Kabila. He fled the country in 2007 after clashes between troops loyal to him and Kabila, before being arrested in Belgium the following year.
The sitting president is constitutionally barred from seeking a third term but Kabila's refusal to say who'll be the candidate for his ruling coalition is spurring speculation he'll try to change or reinterpret the constitution to run again, or delay the vote.