Trump Forging Ahead With Putin as Democrats Demand He Cancel
(Bloomberg) -- President Donald Trump will meet Russian President Vladimir Putin as planned despite Friday's indictment of 12 Russian spies in the hacking of Democratic Party computer systems and calls from Democratic lawmakers for him to drop out.
"It's on," White House press secretary Sarah Huckabee Sanders said in an emailed response to questions about Monday's summit in Helsinki.
A growing chorus of top congressional Democrats urged Trump to cancel the event, even as some Republicans said the president should use the opportunity to confront Putin firmly about Russian interference in the 2016 U.S. presidential election.
"President Trump should cancel his meeting with Vladimir Putin until Russia takes demonstrable and transparent steps to prove that they won't interfere in future elections," Senate Minority Leader Chuck Schumer of New York said in a statement. "Glad-handing with Vladimir Putin on the heels of these indictments would be an insult to our democracy."
Senate Majority Leader Mitch McConnell made no statement immediately after the indictments were announced at the Justice Department. A spokeswoman for House Speaker Paul Ryan, asked whether Trump should meet one-on-one with Putin, responded by saying that "we know Russia meddled in our elections and we're glad these hackers are being held to account."
But other Republican lawmakers expressed the same sentiment as House Foreign Affairs Chairman Ed Royce of California, who said in a statement that Trump "should use today's indictments to challenge" Putin at the meeting.
Trump has repeatedly called the investigation by Special Counsel Robert Mueller a "witch hunt," and some of his allies have said the probe should be brought to a quick conclusion.
The announcement that Mueller obtained indictments of the 12, all members of Russia's military intelligence agency, came three days before Trump and Putin are to meet. The Russians are charged with stealing user names and passwords of people working in Democrat Hillary Clinton's presidential campaign, including its chairman John Podesta. They also allegedly hacked into the computer network of the Democratic National Committee and the Democratic Congressional Campaign Committee in an operation starting around March 2016.
Podesta said in an interview that he wouldn't call on Trump to cancel the meeting with Putin. Instead "maybe he should ask Putin to turn over the 12 people indicted to the United States for trial," Podesta said.
U.S. and Russian officials have said next week's talks will touch on every major point of tension between the two countries -- the Kremlin's interference in the 2016 election, its military incursions into Ukraine and Syria, Moscow's saber-rattling toward NATO allies, and U.S. economic sanctions intended to punish Russia for its actions.
Deputy Attorney General Rod Rosenstein said Friday at the Department of Justice that he briefed Trump on the coming indictments earlier this week.
Trump said Friday that he'll bring up the election interference he speaks with Putin, but that he doesn't expect an answer.
"I will absolutely, firmly ask the question" about interference in the U.S. election, Trump said at a news conference with U.K. Prime Minister Theresa May at Chequers, her country estate. But he predicted Putin wouldn't confess.
"I don't think you'll have any 'Gee, I did it, I did it, you got me,' " Trump said. Referring to the TV courtroom drama of the 1950s and 1960s that often featured a dramatic, last-minute confession, he added, "There won't be a Perry Mason here, I don't think, but you never know what happens, right?"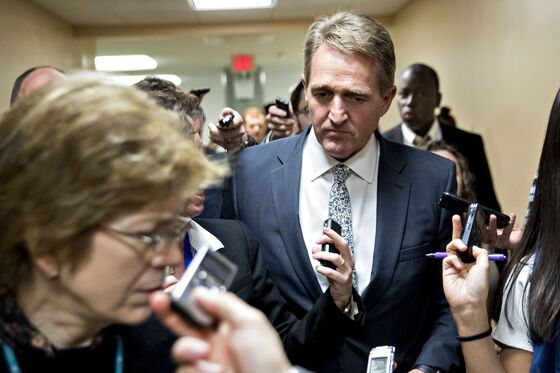 Republican Senator Jeff Flake of Arizona, a frequent critic of the president, said Trump needs to do more than ask.
"Mr. President, as today's indictments reaffirm, election interference is not a question to be asked of Vladimir Putin, but a statement to be made to Vladimir Putin: You interfered in our elections," Flake said on Twitter.
Senator John McCain, also an Arizona Republican, said the indictments add to evidence confirmation an "extensive plot" by Putin's government to spark dissent among U.S. voters, attack the 2016 election, and undermine faith in democracy.
"President Trump must be willing to confront Putin from a position of strength and demonstrate that there will be a serious price to pay for his ongoing aggression towards the United States and democracies around the world," McCain said in a statement. "If President Trump is not prepared to hold Putin accountable, the summit in Helsinki should not move forward."
After the indictments were announced, Democrats were quick to urge Trump to cancel the meeting.
Senator Jack Reed of Rhode Island, the top Democrat on the Senate Armed Services Committee, said Trump shouldn't meet with Russia's leader "in light of this stunning indictment by the Justice Department that these Russian conspirators attacked our democracy and were communicating with Americans to interfere in our election."
Eighteen Democratic members of the House Foreign Affairs panel urged Trump in a letter to cancel the meeting, saying that "due to your constant expressions of sympathy for Vladimir Putin" the lawmakers "do not have confidence that you can faithfully negotiate with the Russian leader."
Based on his track record, some Democrats said they weren't sure whether Trump should be trusted to hold talks with Putin. After meeting with the Russian leader in November 2017, Trump said of Russia's meddling, "Every time he sees me he says, 'I didn't do that,' and I really believe that when he tells me that, he means it."
Senator Mark Warner of Virginia, the top Democrat on the Senate Intelligence Committee, told reporters Friday that Trump shouldn't meet alone with Putin, adding that he's "afraid the president could be taken advantage of" due to his lack of preparation. Warner also called on the president and his allies to "immediately cease and desist from calling the Mueller investigation a witch hunt."
Other Democrats joining the call to jettison the meeting included Senator Richard Blumenthal of Connecticut and Representative Adam Schiff of California, the top Democrat on the House Intelligence Committee. Schiff said on CNN that Trump should "cut his losses on this disastrous trip to Europe" and return without engaging with the Russian leader.
House Minority Leader Nancy Pelosi, a California Democrat, initially stopped short of calling for a cancellation, saying that Trump should use the meeting to secure a comprehensive pact that the Russians will stop their "ongoing attacks on our democracy."
She later issued a statement citing "President Trump's continued refusal to condemn the Russians' attacks on our democracy." She said that a meeting with Putin would be "both pointless and dangerous. The Trump-Putin meeting must be canceled."