Trump's Praise Ends Tough Week for Theresa May
(Bloomberg) -- U.K. Prime Minister Theresa May emerged from her meeting with President Donald Trump having somehow made it to the end of another week -- but she was then immediately deep in talks with lawmakers whose votes could sink her plans for Brexit.
She stood next to the president as he rolled back criticism of her leadership he made in an interview published by the Sun newspaper, and most importantly for the beleaguered British leader, listened to him tell reporters a trade deal between the two countries was still on the cards.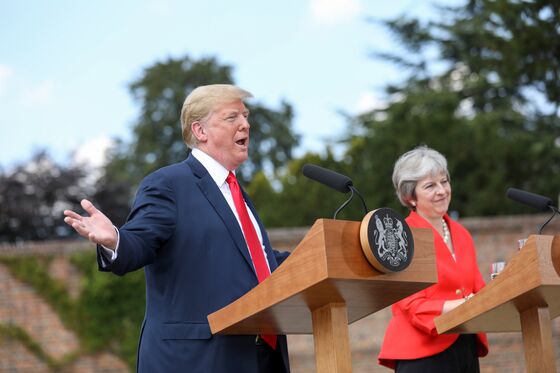 "I've actually gotten to know her better than ever. And I think she's a terrific woman. I think she's doing a terrific job," Trump said. "I would say, I give our relationship, in terms of grade, the highest level of special."
For May, it was a good end to what had been a bad few days even by the standards of her crisis-strewn premiership. Two key members of her Cabinet had resigned over her Brexit plan, which was savaged by her own lawmakers before Trump warned that May's aim to keep close ties to the European Union would prevent Britain getting a free-trade deal with the U.S.
But the relief is brief. Next week, she faces tricky votes in the House of Commons which Euroskeptics in her party plan to use to test opposition to her policy for leaving the bloc, which was finally published on Thursday. Conservative lawmakers who she hopes to persuade to back her, including Cheryl Gillan, John Penrose and Edward Leigh, arrived at her Chequers country retreat shortly after Trump's entourage departed.
May and Trump had earlier strolled side-by-side through the mansion's garden to meet the press assembled outside. They held hands down a short flight of steps, and then took questions from reporters for 50 minutes in bright sunshine and sweltering heat. They frequently looked and smiled at each other as Trump sang the prime minister's praises.
While both leaders said they had agreed to work on a trade agreement between the two countries after Brexit, the president didn't back down from his central criticism -- shared by opponents in May's Conservative Party -- that too much regulatory alignment with the EU might make a trans-Atlantic free-trade deal impossible.
"The only thing I ask of Theresa is that we make sure we can trade, that we don't have any restrictions, because we want to trade with the U.K. and the U.K. wants to trade with us," he said. "I read reports where that won't be possible, but I believe after speaking with the prime minister's people and representatives and trade experts, it will absolutely be possible."
Any agreement between the countries should be "very even trade, because we do not have a fair deal with the European Union right now," Trump said. For the U.K., that might mean a reduction in health and welfare standards -- which for many lawmakers and consumers would be a bridge too far.
Though they put on a cordial front, there were also disagreements they managed to contain by stating their own positions without criticizing the other's. That included skirting round differences on the best way to stop Iran obtaining a nuclear weapon, and they aired very different approaches to immigration.
While Trump said immigration has been "a very negative thing for Europe," May responded that "the U.K. has a proud history of welcoming people fleeing persecution," and that "immigration has been good for the U.K."
The president's Sun newspaper interview may have paradoxically helped the prime minister. First, he seemed keen to make amends for it in the press conference. Second, it gave May a little bit of distance from Trump, whose visit to the U.K. has been greeted with mass protests.
With tens of thousands demonstrating against him in London, Trump has mainly been kept out of the nation's capital, traveling instead by helicopter to rural locations where he can avoid the crowds. He heads next to Scotland to visit his golf course, while May will seek a little rest in her home in Maidenhead before returning for yet another difficult week handling Brexit.