May Seeks to Salvage Trump Trip After President's Brexit Warning
(Bloomberg) -- U.K. Prime Minister Theresa May sought to limit the damage from U.S. President Donald Trump's outspoken attack on her Brexit policy on Friday as she met him for talks at her country retreat.
Trump warned in a newspaper interview -- published just after she had entertained him at a black tie dinner -- that her European Union divorce plan will likely end hopes of a U.K. trade deal with the U.S.. He also said she had failed to take his advice and took a swipe at British immigration policy, which May was in charge of before becoming prime minister.
"If they do a deal like that, we would be dealing with the European Union instead of dealing with the U.K., so it will probably kill the deal," Trump said in the interview in the Sun newspaper published Friday. The pound dropped.
Foreign Office Minister Alan Duncan sought to talk down the differences, insisting that the president's visit was "most definitely" a success so far, while rejecting his warning that May's Brexit plan to keep close ties with the EU would torpedo a U.S. trade deal.
"Donald Trump is in many ways a controversialist, that's his style," Duncan told BBC Radio 4's Today program.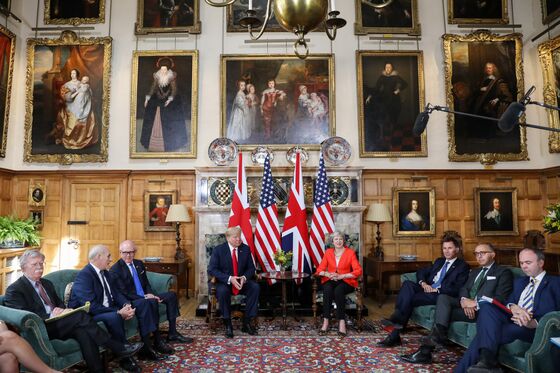 The president insisted there was not a problem. "The relationship is very, very strong. We really have a very good relationship," he told reporters as he stood alongside May before their meeting at Chequers, her country estate.
May added that the two nations work "really closely together" and that the U.S. "is our longest-standing partner." Her spokeswoman, Alison Donnelly, was asked about Trump's comments and insisted that 'we're confident we can do a good deal with the U.S."
Trump's comments in the Sun, owned by Rupert Murdoch, a political ally of the president, appeared after May had hosted Trump at a black-tie dinner at Blenheim Palace, the birthplace of Winston Churchill. The president also praised Boris Johnson, who quit May's Cabinet in protest at her Brexit plan on Monday, saying he would make a "great" leader.
On Friday Trump will have tea with Queen Elizabeth II at Windsor Castle, who he described as "a tremendous woman."
May wants to impress Trump and use his three-day visit to the U.K. to push for a trade deal. But even before he arrived, the president attacked May's Brexit plan, said the country was in "somewhat turmoil" and that meeting Russian President Vladimir Putin next week -- the British premier's geopolitical enemy -- would be easier than meeting her.
Trump previously seemed well disposed to the idea of a U.K. trade deal, tweeting a year ago that it could be "very big and exciting" for jobs.
But in the Sun interview, he criticized May for the way she handled negotiations with the EU, saying "she didn't listen to me." The deal she is pursuing "is not what the people voted on" and will affect trade with the U.S. "in a negative way," he said.
In contrast, he praised Johnson, who resigned as May's foreign secretary on Monday and who Trump said he would like to meet during his time in Britain.
"I think he's got what it takes and I think he has got the right attitude to be a great Prime Minister," he said. Johnson and David Davis, the Cabinet secretary in charge of negotiating the separation from the EU, quit days after May announced a Brexit deal that was forged at Chequers, where the two leaders were meeting on Friday.
Lawmaker Margot James, a minister in May's government was direct in her response. "No Mr President. Boris Johnson would make a terrible PM," she tweeted. Chancellor of the Exchequer Philip Hammond told reporters in Brussels that the president hadn't yet had the chance to discuss May's new Brexit plan.
White House Press Secretary Sarah Huckabee Sanders said early Friday that "the president likes and respects Prime Minister May very much. As he said in his interview with the Sun, she is a very good person and he never said anything bad about her."
No deal with the U.S. can be signed until after next March 29, when the U.K. is to formally leave the EU. Free-trade agreements typically take years to conclude and any accord is likely to include hard negotiations over tariffs in industries such as automotive and agriculture, including chlorinated chicken and genetically modified crops.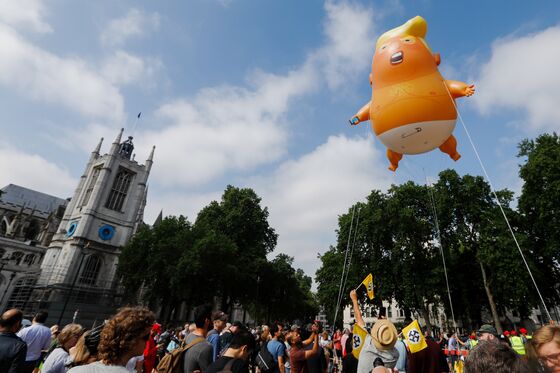 Despite the pomp around Trump's trip, it isn't an official state visit and the president will largely avoid the London area where tens of thousands of Britons -- joined by activists from across Europe -- were scheduled to protest against Trump and his policies.
Read More: Trump to Avoid London, Protests During U.K. Tour
In the Sun interview, Trump attacked London Mayor Sadiq Khan, saying he was doing a "terrible" job in preventing terrorism and crime. He also criticized the scale of immigration into Europe and said he was saddened by the planned protests, adding that they made him feel unwelcome.
In an interview with Bloomberg TV, Khan, the first Muslim mayor of a Western capital, said it was for the president to explain why he singles him out among other mayors whose cities have also been affected by terrorism.
"Here in London we love America, we love Americans," Khan said, adding that many Americans based in London would be joining the protests against Trump. "Diversity is a strength, not a weakness. I really enjoy the fact that here in London you can be of different religion, different ethnicity and not just get on but respect, celebrate and embrace each other."