Italy's Salvini Defends Decision to Prevent Migrants From Landing
(Bloomberg) -- Italy's hard-line interior minister has defended his decision to initially block 67 migrants rescued off the coast of Libya from disembarking in Sicily, after a rare intervention by President Sergio Mattarella allowed them to come ashore.
Matteo Salvini, who leads the anti-immigrant League party and is a deputy prime minister in the new coalition government, said he wanted to prevent some migrants suspected of attacking sailors from landing before Italian police had concluded their investigation into the incidents.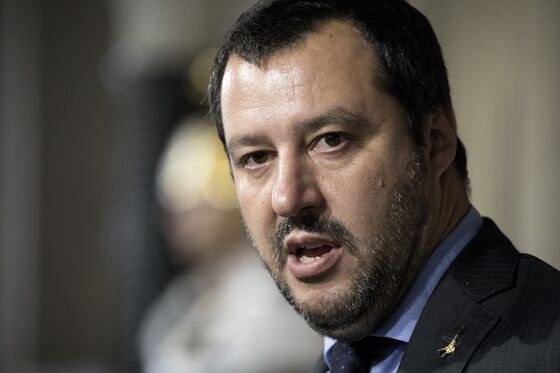 "I have to do everything I can to protect the people who live in this country," Salvini said on RTL radio on Friday. "Nobody will ever change my view that the fight against human trafficking and clandestine immigration is one of this country's primary objectives."
After being contacted on Thursday by Mattarella, who as president mainly has a ceremonial role in politics, Prime Minister Giuseppe Conte ordered that the migrants be let off the Italian vessel in the port of Trapani. It was the latest instance of tension within the ruling coalition between Salvini's right-wing League and the anti-establishment Five Star Movement, whose Transport Minister Danilo Toninelli had approved the ship docking in Sicily.
"Knowing that some violent people are on the loose in Italy and being funded by Italians makes me quite annoyed," Salvini said.
Five Star's Deputy Prime Minister Luigi Di Maio said on Friday the president's wishes must be respected but also called for a swift conclusion to the probe into the alleged attacks.
Salvini intensified his rhetoric later on Friday when he posted a statement on social media saying a boat carrying 450 "illegal immigrants" near Malta would under no circumstances be allowed to dock in Italy.
"As promised, I do not give in," Salvini wrote. "Malta, the human traffickers and all the do-gooders in Italy and the rest of the world know that this boat cannot and must not enter an Italian port."